Despite Apple's decision to not include Thunderbolt 2 in the new MacBook, the fast connectivity option is quickly becoming mainstream for those who need lots of speedy external storage or multiple big monitors. As such, manufacturers like CalDigit have been stepping up efforts to produce docks that allow multiple peripherals to be connected to a MacBook Pro, MacBook Air, iMac, Mac mini or Mac Pro with a single cable. Today we're looking at the CalDigit Thunderbolt Station 2 (US$199, affiliate link), a surprisingly small but powerful Thunderbolt 2 dock.
Specifications
Dimensions: 5.2 x 3.88 x 1.71 inches (13.2 x 9.86 x 4.34 cm)
Weight: 1.34 lbs (.61 kg)
Design
Many of the docks I've reviewed in the past have come in a horizontal orientation, usually quite flat but wide. The Thunderbolt Station 2 (TS2) is a chunky little box that can be set up either vertically or horizontally, adding flexibility to your desktop layout. When set up vertically, the TS2 only takes up 6.63 square inches of space.
The TS2 has a lot of ports stuffed into that small box. There is a gigabit Ethernet port (standard RJ-45 jack), a pair of USB 3.0 SuperSpeed ports, twin eSATA ports, an HDMI port, and two Thunderbolt 2 ports on the back of the device, as well as a third USB 3.0 SuperSpeed port, a headphone jack, and a microphone jack on the front. I was quite surprised to see the two 6 Gb/second eSATA ports, which most competing docks leave out. Those can be very useful for people who purchased eSATA drives in the past.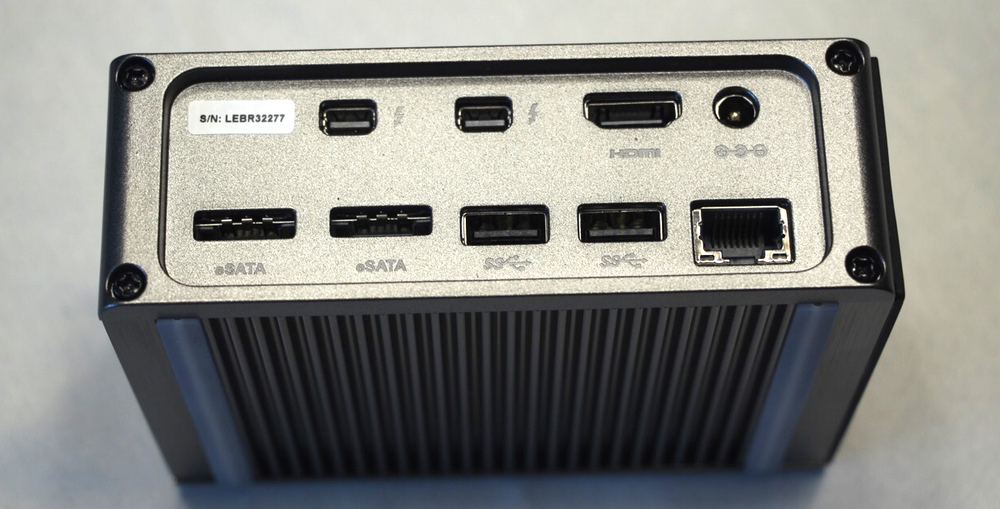 Power is supplied through a single power port on the back, with electricity coming in through a standard external power brick. The case itself is made of a nice brushed aluminum. It doesn't match the standard Apple aluminum finish, but that's not a problem unless you an obsession about that specific type of aluminum. The top, bottom and one side of the TS2 are made in a grooved heat-sink fin design — a necessity as this dock doesn't come with an internal fan like the competing Elgato and Belkin products. As such, the TS2 is completely silent in operation.
The bottom of the case has two removable plastic strips that serve as isolation "feet" if you wish to place the dock on your desk horizontally, the "other bottom" (if you happen to have the dock standing up) is made of a thick rubber material.
Function
I always have a bit of difficulty writing about the functionality of docks, since they all pretty much do the same thing — provide many ports while using only one Thunderbolt port on the computer they're hooked up to.
I connected the TS2 to my iMac with a standard Thunderbolt cable (not included), plugged the power brick to a wall outlet, then ran the thin power cable to the back of the dock. A single blue LED on the front of the TS2 is your only indication that it is powered up and ready to go.
Just for fun, I connected my iPhone to the front USB port, then plugged a USB 3.0 disk drive into one port and a USB 3.0 flash drive to another. All were visible to my iMac immediately, which I expected. I have never owned any eSATA devices, so I was unable to check out those two ports.
I did try the Ethernet port with a laptop, and found the connection to be very speedy… which reminds me that I need to run Ethernet to my office… I also connected an external monitor to my iMac using the HDMI output — CalDigit says that the TS2 can support resolutions of 4096 x 2160 (24 Hz), 3840 x 2160 (30 Hz) or 2560 x 1600 (60 Hz) provided that your computer also supports multiple displays and those resolutions.
Finally, I used a Mini DisplayPort to DVI adapter to connect the same monitor to my iMac, and it worked properly. The Mini DisplayPort adapter doesn't allow Thunderbolt daisy-chaining, of course.
In operation, the TS2 is completely silent. Some competing docks have started humming when loaded up with numerous connected devices, simply because the fan kicked in to cool the electronics. The TS2 became warm to the touch, but never hot.
Conclusion
I'm quite impressed with the CalDigit Thunderbolt Station 2. It's the smallest Thunderbolt 2 dock I've tested, has more ports, looks good, and is fan-free. I'm not a fan of the power brick that it's plugged into, but every dock is burdened with the same power needs. Price-wise, the TS 2 is less expensive than the Belkin Thunderbolt 2 Express HD Dock at $299 and the Elgato Thunderbolt 2 Dock at $230, although the Elgato dock does include a Thunderbolt cable.
Apple World Today Rating (out of five stars): ★★★★★