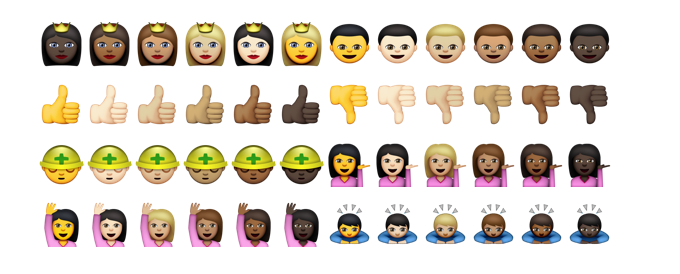 A look at iOS 8.3 beta 2 has revealed over 300 new, more diverse emoji, including new skin tones and new flags. Since iOS 8.3 is still in beta, it's possible that this artwork will change a bit. The Iconfactory's Sean Heber points out that these new emoji are also present in the 10.10.3 beta.
Our take on the news
Apple's commitment to diversity is real and inspiring. Tim Cook recently wrote:
"All around the world, our team at Apple is united in the belief that being different makes us better. We know that each generation has a responsibility to build upon the gains of the past, expanding the rights and freedoms we enjoy to the many who are still striving for justice."
People increasingly use emoji to convey information, humor and themselves. It's great to see options to let customers do so successfully. There's still a ways to go, as we'd like to see more representations of people with disabilities.
Good job, Apple!