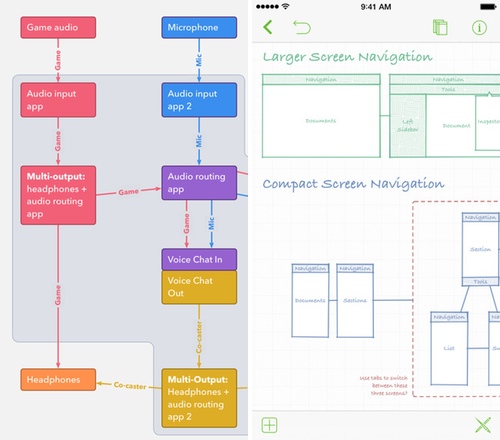 The Omni Group this week released an update to its popular diagramming tool, OmniGraffle for the iPad, which brings a highly-requested feature — support for the iPhone. OmniGraffle was originally released as a charting, wireframing and diagramming tool for the Mac and then made its way to the iPad. The latest 2.1 version is a universal app compatible with both the iPhone, iPad and iPod touch.
With this release, The Omni Group has redesigned the iOS app, sizing the elements and moving them around so users can conveniently access the tools on the iPhone's smaller screen. The user interface was created to be dynamic, with the layout changing based on the screen size of the iPhone model and its orientation.
Besides a handful of smaller improvements and bug fixes, the company also added editing points to shapes, allowing you to drag existing points and add and remove points as needed. Power users will notice the new fill blend and filter effects that were introduced in OmniGraffle Pro for the Mac 6.1 and are now available in the Pro version of the iOS app.
OmniGraffle for iOS is available now as a standard version for $49.99 in the iOS App Store. Users can upgrade to the Pro version for an additional $49.99 via an in-app purchase.