It's time to save some of your hard-earned money with our Daily Deals, featuring exclusive deals for AWT readers, hardware discounts and our own handpicked iOS and OS X sales. All prices are USD and subject to change. Please check prices before you purchase as some deals may expire quickly.
AWT's Daily Deal
Simon 4.0 [OS X; On sale for $49.00, down from $99.00] AppleWorld.Today is pleased to offer an exclusive deal on Simon 4.0 by Dejal Systems. Simon is a robust site monitoring tool for OS X that checks servers for changes or failures and notifies you when a change is detected. The app sends a notification via email, sound, speech, Twitter, or a variety of other means.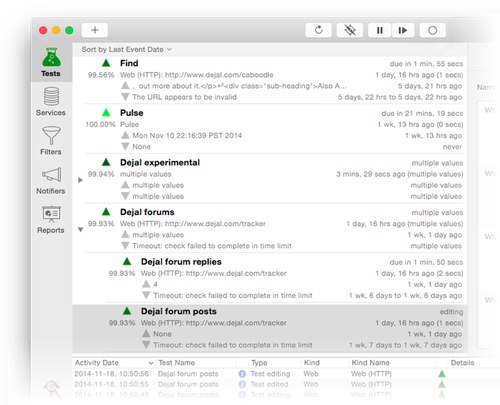 The native Mac utility can be used to monitor both your own website and servers as well as external sites. You can use it to track your favorite blogs, check for web mail, keep an eye on auctions, and more.
Simon is available for US$99, but AWT readers can save 50% off the retail price when they use the promo code "PHOENIX" during checkout. You also can use this Dejal Store link to apply the promo code and receive the $49 discount automatically.
Hardware and Accessory Deals
iSmartAlarm – Preferred Package Indoor Wireless Security System [Best Buy; On sale for $124.99, down from $199.99] Monitor your home with this iSmartAlarm Preferred Package ISA3 wireless security system that utilizes door/window sensors and a motion sensor to deliver notifications of unauthorized activity to your Apple® iPhone® or Android device.

Apple® – $100 iTunes Gift Card – Purple/Pink/Orange [Best Buy; On sale for $90, down from $100] iTunes Gift Cards are perfect for anyone who enjoys one-stop entertainment. Each card features an iTunes Store code redeemable for music, movies, TV shows, games, apps, and more. Recipients can access content on an iPod, iPad or iPhone, Mac, or PC.

Apple® – MacBook Pro with Retina display – 13.3″ Display – 8GB Memory – 128GB Flash Storage – Silver [Best Buy; On sale for $1,199.99, down from $1,299.99] With fourth-generation Intel Core processors, the latest graphics, and faster flash storage, the incredibly advanced MacBook Pro with Retina display moves even further ahead in performance and battery life.

Select Philips Bluetooth Speakers [Amazon; Save up to 40% Off] Play music wirelessly from your phone or tablet or even take calls. Save up to 40% Off Select Philips Bluetooth Speakers as part of Amazon's Gold Box deals.

i-Blason 6 Feet (1.8m) Apple MFI Certified Lightning to USB Heavy Duty Cable for iPhone [Amazon; On sale for $15.99, down 47%] Apple MFI Certified Charging and Synching Lightning Cable for Ulitmate Conveniece For Apple Mobile Device Users. Deals ends at 3PM ET.

i-Blason Battery Case for Apple iPhone 6 (MFI Certified) [Amazon; On sale for $47.99, down 31%] Enjoy the comprehensive protection while still maintaining the slim form factor of your iPhone 6. The powerful 3200mAh built-in smart lion-thium polymer battery can provide more than a full charge for your iPhone 6 battery. Deals ends at 3PM ET.

Fitbit Flex, Charge, Charge HR or Surge [AT&T; On sale for 15% off] Save 15% off on Fitbit products by entering promo code: FITBIT15 during checkout. Offer ends 2/19. Limit of 2 per transaction.
iOS Software Discounts
OS X Software Discounts