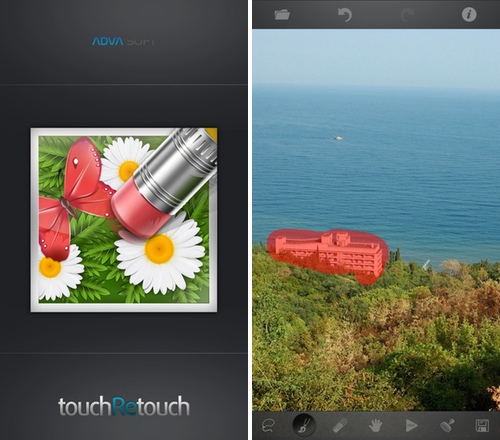 We've all been there — you lineup for the perfect shot and someone or something gets in the way. Before you toss that image into the trash bin, you should take a few moments and see if you can fix it using an app like TouchRetouch.
Different from full-fledged image editors like Aviary or VSCO Cam, TouchRetouch is a unitasker, focusing only on retouching an image. It is perfect for removing those unsightly or unexpected additions that crop up while you are taking a photo.
Because it has a single purpose, TouchRetouch is easy and convenient to use — you have exactly the right tools for the purpose and are not overwhelmed by too many options. Removing an item from a photo is as simple as loading the photo into the app, painting or lassoing the item to be removed and then hitting the "Start" button. In just a few seconds, TouchRetouch will remove the unwanted portion.
TouchRetouch is a remover app, and works well for most photos, but it is not perfect. Like most retouch tools, it's flawless when the background behind an item to be removed is uniform, not so good when the backdrop is an amalgam of colors, shadows and contrasts. For example, removing a person from a background of white snow produces great results as shown below, while removing someone from a crowded subway station is challenging.

This inconsistent removal is a problem faced by all retouch-type applications — how do you remove a block of the photo and then blend fill the resulting hole when the background is complex and irregular? Sometimes TouchRetouch handles the challenge just fine, other times you end up with an artifact that makes it painfully obvious that the image has been edited. You can minimize this artifact by further processing the photo in another app, but that extra step is tedious.
TouchRetouch is a very capable retouch tool and I use it all the time for my landscape photos, but it would not be my tool of choice if I was a portrait photographer. Yes, TouchRetouch will remove blemishes from portraits, but it is not the ideal app for editing and improving facial photos. If close-ups of people are your primary subject, you may want to look at a portrait-specific app such as Facetune or Visage Lab, both of which have a suite of facial improvement tools beyond a basic blemish remover.
If you primarily shoot landscapes, stills or street photography, then you should consider adding TouchRetouch to your arsenal of photo apps. Its easy-to-use interface will let you remove unwanted objects in a flash, which means you will spend more time shooting and less time editing.
TouchRetouch is available for $0.99 in the iOS App Store. It is compatible with the iPhone.