The folks behind Todoist are bringing their app to the small screen, and that's a big task.
What we know about the Apple Watch is nothing compared to what's unknown. We know it'll come in two sizes, 38mm and 42mm, across three lines: Watch, Watch Sport and Watch Edition. The entry model will cost $349. It's got several customizable faces, features sweet apps for health, fitness, communication and keeping time. It does that weird heartbeat thing. There's more, of course, but the list of what we don't know is even longer:
What will battery life be like?
What will cost be across models?
How will Apple Pay work without fingerprint ID?
What features will work if a paired iPhone is unavailable?
What is the internal storage like?
The biggie for me is, what will third-party apps be like? When the iPhone debuted, many people considered, what will be its "killer app"? Meaning, what's the one app or the one function that will have people tripping over themselves to buy one? Surely there had to be such a thing. Turns out there is, but it's not a single app.
It's the App Store itself. It's the life that talented developers breathe into it. The iPhone's killer feature, if you will, is potential fulfilled. Imagination realized. It's "Eureka!" moments between developers, engineers, artists and customers.
The same will be true of Apple Watch.
But what will that look like on such a tiny screen? The original Phone's 3.5-inch display seems gargantuan next to that of its younger sibling. Like many of you, I'm very eager to see what app developers do with the Apple Watch.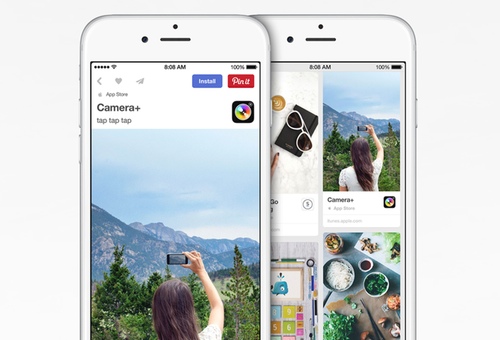 Pinterest today announced new "app Pins" that promote apps in the iOS App Store. The app pins join exisiting specialty pins designed to share recipes, products and articles.
The new app Pins will link to an iOS app and allow you to download the app to your phone without leaving the Pinterest app. Apple also added an App Store profile to showcase the latest and greatest app Pins, while Pinterest is promoting their own app Pins on the Staff Picks board.
Our take on the news:
Brilliant move by Pinterest to bring the App Store to the social network's 70 million users and help them find useful apps for their iPhone or iPad.