Every once in a while we get review items that seem a little strange… until we give them a try. The Bluelounge Posto (US$19.95) is one of those accessories that clicked with me the minute I did the one-time assembly and put my headphones onto it.
That's right; Posto is a headphone stand. It's rather simple in design, featuring a square base with four nonslip rubber feet, an 8-inch (20 cm) tall post, and a silicone hook that your headphones rest on when not in use.
Bluelounge says that Posto works with any headphones. I was doubtful since I have the strangely-shaped (but wonderful) Blue Mic Mo-Fi headphones, but sure enough, the Mo-Fi set hangs on the Posto nicely.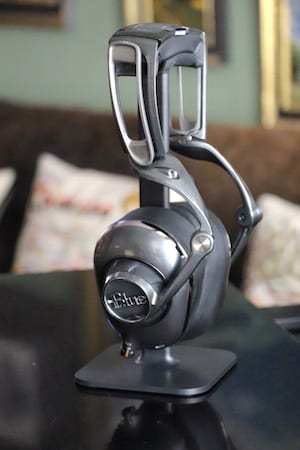 So is it functional? Yep. Posto is one more accessory that might possibly just keep my desktop clearer in the future. Instead of just tossing my 'phones onto the desktop and having them take up about 52 square inches of space, I now hang them on the Posto with its 18 square inch base.
The price is definitely right, too. Posto comes in black or white, and you can buy one through Amazon for delivery starting on July 27 to help support Apple World Today (affiliate links).
Apple World Today rating (out of 5 stars): ★★★★★