Apple placed first in the smartphone division of the the ACSI Telecommunications Report 2018 with an average score of 85 out of 200 for its iPhones.
The ACSI says the iPhone 7 Plus is America's favorite smartphone model, topping the brand list with an ACSI score of 85. The large-screen phone outperforms Apple's more recent models, the iPhone 8 and 8 Plus (both 83). The iPhone X comes in far behind at 80.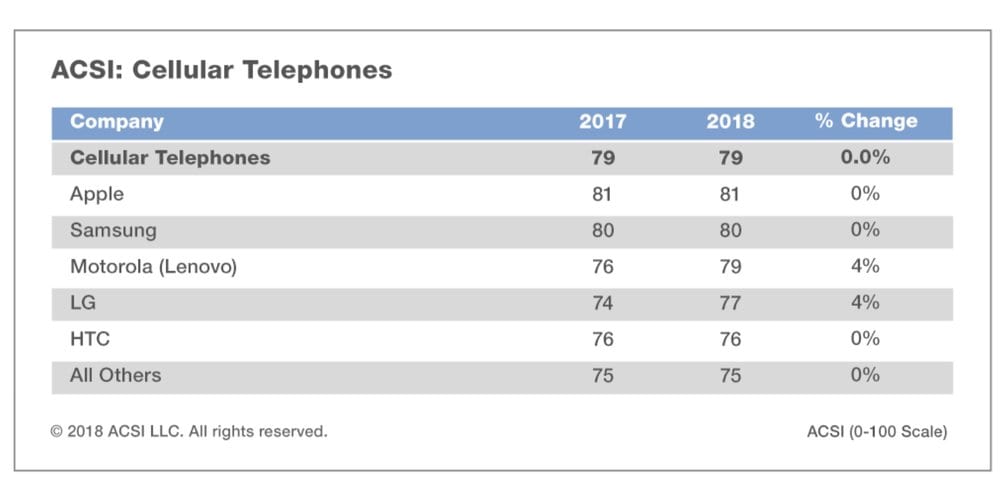 Samsung's Galaxy S8+ is in second place with an ACSI score of 84, followed by Samsung's S8 at 83, which ties Apple's iPhone 8 and 8 Plus. While Samsung and Apple dominate the rankings, the LG G4 makes an appearance in fourth place, tied with the iPhone 6 Plus at 82. The lowest-rated model now belongs to Apple with its iPhone 5 (75), just behind Samsung's Galaxy S5 (76).
The ACSI is a national economic indicator of customer evaluations of the quality of products and services available to household consumers in the U.S. It uses data from interviews with roughly 250,000 customers annually as inputs to an econometric model for analyzing customer satisfaction with more than 380 companies in 46 industries and 10 economic sectors, including various services of federal and local government agencies. ACSI results are released throughout the year, with all measures reported on a scale of 0 to 100.
---
Like this article? Consider supporting Apple World Today with a $5 monthly Team AWT membership.