Global market research firm TrendForce estimates that global tablet shipments for 2016 will total around 154.5 million units, translating to an annual decline of 8.3%. However, Apple will remain the top tablet maker, though its market share is project to drop from 26.1% this year to 24.8% in 2017.
TrendForce thinks Apple will launch more affordable iPads to maintain its market share. Amazon made a splash in the tablet market with price-friendly products in 2015. Since then, Amazon's tablet shipments rose sharply for two consecutive years, and its competitors have also shifted their focus on low-price models.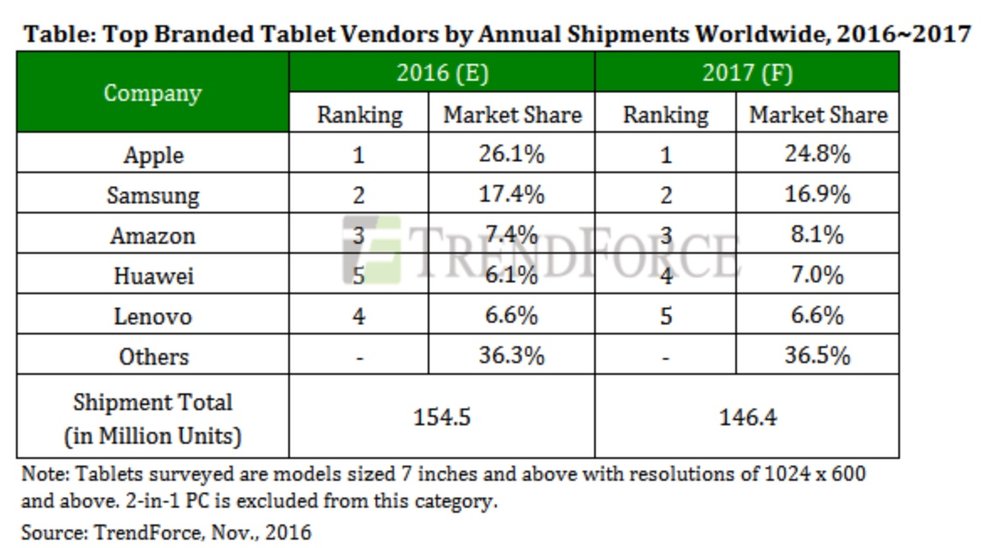 "To narrow Amazon's lead in this particular segment, Apple will be introducing a more affordable 9.7-inch iPad device in the first quarter of 2017," TrendForce notebook analyst Anita Wang says. "While this low-price model is expected to be the main driver of iPad shipments for the entire year, whether it will be a hit with consumers remains to be seen."
Looking ahead to 2017, TrendForce thinks branded tablet vendors will adjust their product strategies and generate demand by releasing low-price devices. Hence, global shipments for 2017 are forecast to fall by just 5.3% annually to about 146.4 million units.
"Most tablet brands will be more conservative in committing their resources during 2017," Wang points out. "Amazon and Huawei on the contrary have ambitions to increase their tablet shipments by many folds. The two brands are expected to expand their offerings in the near future. Additionally, Microsoft will be releasing Surface Pro 5 in the first quarter of 2017. Generally speaking, tablet shipments will drop next year but the decline will be fairly limited."
Another significant trend in next year's tablet market will be the large increase in device size. TrendForce forecasts that over 30% of tablets shipped worldwide in 2017 will be in the 10-inch and greater size segment. The 10.X-inch segment in particular will see a noticeable expansion in shipment share mainly because the leading brand Apple will also be launching a new 10.5-inch iPad device next year, according to Wang.
Samsung too has adjusted its product strategy and reinserted the 10.1-inch size category into its tablet offerings. Besides Apple and Samsung, other branded vendors are very active in the large-size segment as well because product margins of small-size tablets are being eroded by the intense price competition, TrendForce notes.