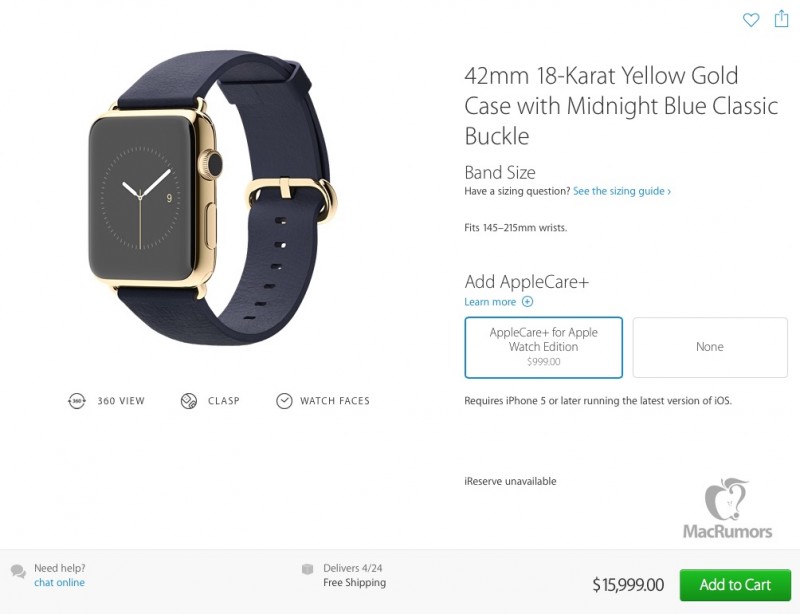 With pre-orders and demos of the highly-anticipated Apple Watch only one week away (FINALLY!), several sources have acquired information on the cost of AppleCare+ for the newest member of the Apple family. AppleCare+ is going to be a good idea for this wrist-borne wonder, as accidental damage from swinging your arm into something — a table, a car door, you name it — is a very real possibility.
MacRumors published what are claimed to be internal Apple documents about AppleCare+ pricing for the devices, which unsurprisingly appear to vary based on what model of Apple Watch you're buying. The entry-level aluminum Apple Watch Sport will get coverage at the relatively bargain price of $59, the stainless steel Apple Watch will be protected for $79, and the gold Apple Watch Edition? Well, if you have to ask…
Protecting that $10,000 – $17,000 Apple Watch Edition is going to cost you a whopping $999. Gulp! These AppleCare+ plans extend your warranty for the aluminum and stainless steel versions to two years, while the warranty on the gold Edition pushes out to three years. For all of the devices, accidental damage is covered, although it's unknown if owners will be charged for damage incidents as they are for the iPhone. 
MacRumors also notes that it AppleCare+ purchases will be available both in-store and online. With the iPhone, AppleCare+ can be purchased up to 60 days after the device purchase, and Apple will probably have a similar policy for the Apple Watch.