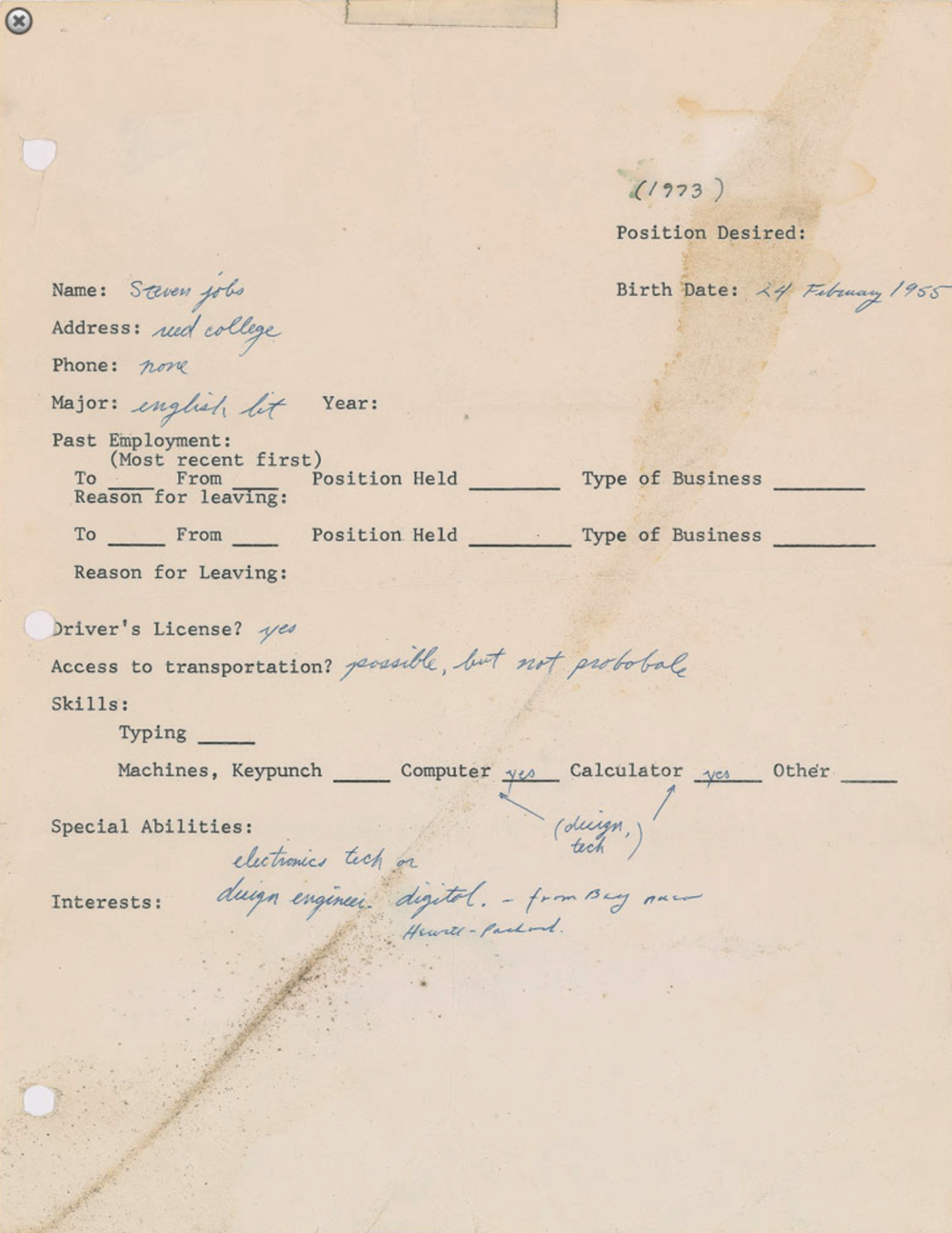 Today's news brings us word about more screenshots in the iOS App Store, an auction of items signed by Steve Jobs, and a quasi-scientific test of car navigation apps by an Adobe manager:
Apple now allows developers put submit up to 10 screenshots per device type for their App Store listings
Want a piece of history? Three items signed by Steve Jobs are going up for auction soon, including an employment application from 1973 (see image at top of page)
Bored by your commute? Gather data for an unofficial test of car navigation apps like this Adobe senior manager did
The text version of the podcast can be read below. To listen to the podcast here, click the play button on the player below. Apple News readers need to visit Apple World Today in order to listen to the podcast.

Text Version
This is Steve Sande for Apple World Today, and you're listening to the AWT News Update podcast for Thursday, February 22, 2018.
Developers and potential app buyers can be happier today since App Store listings can now show up to 10 screenshots per device type instead of the previous 5. That means that if an app includes iPad, iPhone, Apple TV and Apple Watch components, a developer can show up to 40 screenshots per app. Developers will still be able to submit 30-second preview videos if they wish, but the doubling of screenshots should help developers give potential buyers a better idea of how an app is going to work by detailing more features or game levels and characters.
Want a piece of history? RR Auction will be auctioning off three items signed by Steve Jobs starting on March 8th with bidding ending a week later. Now each item is likely to sell at a price of between $15,000 and $50,000, simply because Jobs hated to give autographs and signed items are rare. The first item, and the one valued at about $50,000, is an employment application filled out by the late Apple CEO in 1973 after he dropped out of Reed College. The second item, worth about $25,000, is a signed Mac OS X manual from 2001. The person who is selling the manual said that it was the end of a day of Mac OS X Administration training and he saw Jobs walking to his car, so he talked him into signing the cover of the book. The last is a signed newspaper article about the iPhone 3G, which includes not only Steve Jobs' autograph, but that of iPod creator Tony Fadell as well. It's being sold by a man who was about 10 years old at the time — his mother saw Jobs and Fadell sitting outside a frozen yogurt store and she asked Jobs to sign it. The man says "My mom is pretty persuasive and was eventually able to convince Steve to sign; but under Steve's condition that the person sitting with him would have to sign it as well." Fadell, by the way, left Apple after helping design the iPhone, started Nest, and then sold that company to Google for $3.2 billion.
A senior manager at Adobe put his daily commute to good use, doing a semi-scientific test of the three top car navigation apps — Apple Maps, Google Maps, and Waze. Artur Grabowski said that he spent "the majority" of 2017 collecting data on the three apps, and he found that relative to Google Maps, Apple's estimated trip times were about 8 percent longer. However, real arrival times with Apple Maps were about 1 percent faster than predicted. Grabowski conjectures that "Apple sandbags its estimates so that users on average arrive at the predicted time or slightly sooner," and argues that the company is being "intentionally conservative" to provide a good user experience. Grabowski's conclusion? "If you want to get to your destination most quickly, use Google Maps. If you want an accurate prediction from your navigation app to help you arrive at your destination on time, use Apple Maps. If thinking you'll get to your destination quickly helps to ease your commuter anxiety, use Waze." Grabowski's testing was all done in the San Francisco Bay Area, and a third of the routes were for his commute.
That's all the news for today – join me tomorrow afternoon for another edition of the AWT News Update.