Apple wants to make it easier to find the proper images for use with emoji, Animoji, and Memoji. The tech giant has been granted a patent (number 10,311,144) for "emoji word sense disambiguation."
Emoji are used frequently in the Apple ecosystem thanks to "Animoji" and "Memoji." Animojis are one type of this other multimedia content, where a user can select an avatar (e.g., a puppet) to represent themselves. The animoji can move and talk as if it were a video of the user. Animojis enable users to create personalized versions of emojis in a fun and creative way.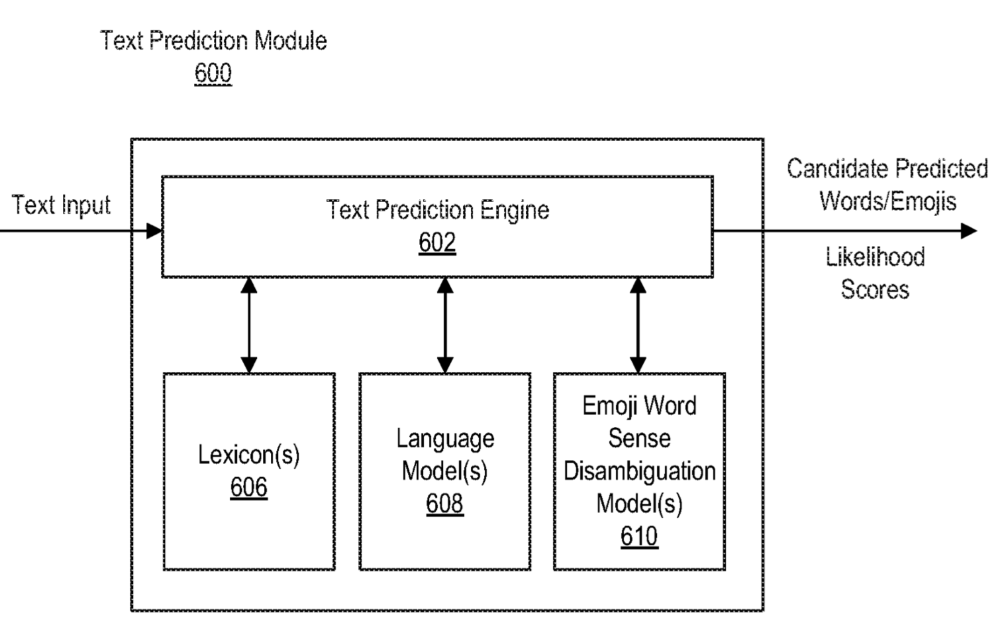 Memoji is the name used for iOS's personalized "Animoji" characters that can be created and customized right within Messages by choosing from a set of inclusive and diverse characteristics to form a unique personality. 
Emojis are pictorial symbols used in informal communication channels like electronic messages and Web pages. They can be clustered into two broad categories: ideograms and smileys. 
Ideograms are pictures of concrete objects like a telephone, a bicycle or a rose. Smileys are stylized faces intended to convey a particular mood or emotion, such as happiness or sadness. In some text input interfaces, ideograms can be suggested as lighthearted entries to replace or supplement actual word entries. For example, if the user enters the word "telephone," the corresponding ideogram can be predicted and suggested to replace or supplement the word entry. 
However, Apple says that conventional deterministic approaches to predict relevant ideograms can be "unsophisticated and inaccurate." These approaches can result in "the prediction and suggestion of ideograms that are inappropriate given the context of the entered text." The tech giant thinks it can do better.
Here's Apple's summary of the invention: "The present disclosure generally relates to systems and processes for emoji word sense disambiguation. In one example process, a word sequence is received. A word-level feature representation is determined for each word of the word sequence and a global semantic representation for the word sequence is determined. 
"For a first word of the word sequence, an attention coefficient is determined based on a congruence between the word-level feature representation of the first word and the global semantic representation for the word sequence. The word-level feature representation of the first word is adjusted based on the attention coefficient. An emoji likelihood is determined based on the adjusted word-level feature representation of the first word. In accordance with the emoji likelihood satisfying one or more criteria, an emoji character corresponding to the first word is presented for display."
Of course, Apple files for — and is granted — lots of patents by the U.S. Patent & Trademark Office. Many are for inventions that never see the light of day. However, you never can tell which ones will materialize in a real product.