The surge in users of subscription video-on-demand (SVOD) services during the stay-at-home period was not always sustained once people were allowed to move around more freely, according to new research from Strategy Analytics. However, the news was good for Apple's streaming service.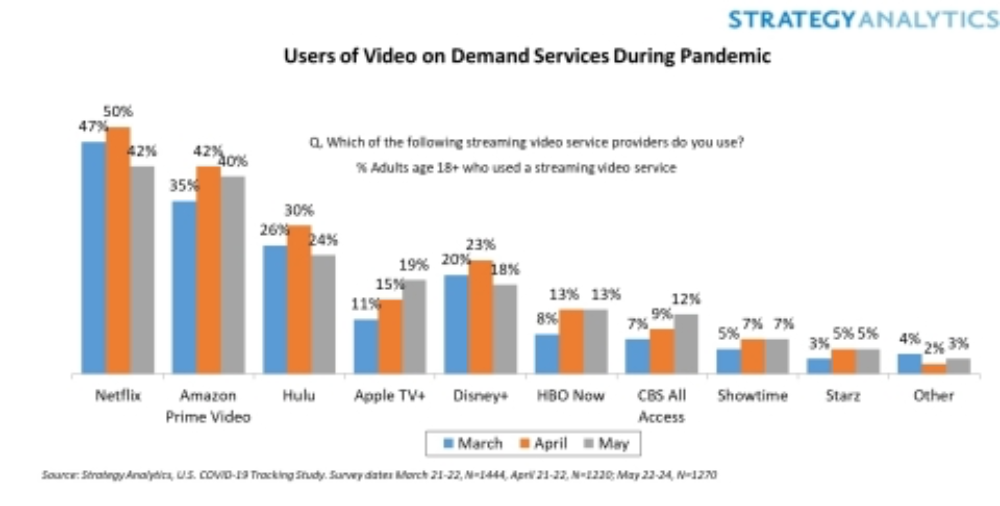 The report, COVID-19's Impact on SVOD, surveyed a nationally representative sample of more than 4,000 U.S. adults in March, April and May found that 42% of respondents used Netflix in May, compared to 50% in April and 47% in March. User numbers of other services, including Amazon Prime Video, Hulu and Disney+, followed a similar "pandemic peak" pattern. The results suggest that significant numbers of users were binging on services in March and April, but as restrictions were loosened in May the number of users declined as they were able to pursue more normal activities once again.
However, this did not apply to all services, however. The number of users of both Apple TV+ and CBS All Access rose in both April and May, says Strategy Analytics. Apple's streaming service rose 11%, 15%, and 19% in, respectively, March, April, and May.
Apple TV+ is available on the Apple TV app on iPhone, iPad, Apple TV, iPod touch, Mac, select Samsung and LG smart TVs, Amazon Fire TV and Roku devices, as well as at tv.apple.com, for US$4.99 per month with a seven-day free trial. The Apple TV app will be available on Sony and VIZIO smart TVs later this year.
For a limited time, customers who purchase a new iPhone, iPad, Apple TV, Mac or iPod touch can enjoy one year of Apple TV+ for free. This special offer is good for three months after the first activation of the eligible device. For more info, visit apple.com/tvpr.