The smartphone market in Mainland China posted 25% quarter-on-quarter growth to reach over 90 million sell-in units in quarter two of 2020, despite the market contracting 7% compared to the second quarter of 2019, according to the Canalys research group.
China's smartphone market is on track for recovery amid a sharp rebound of economic activity. Apple shipped 7.7 million iPhones, posting the fastest growth among the top five, at 25% sequentially and 35% annually, driven by rising online sales and its lower priced portfolio.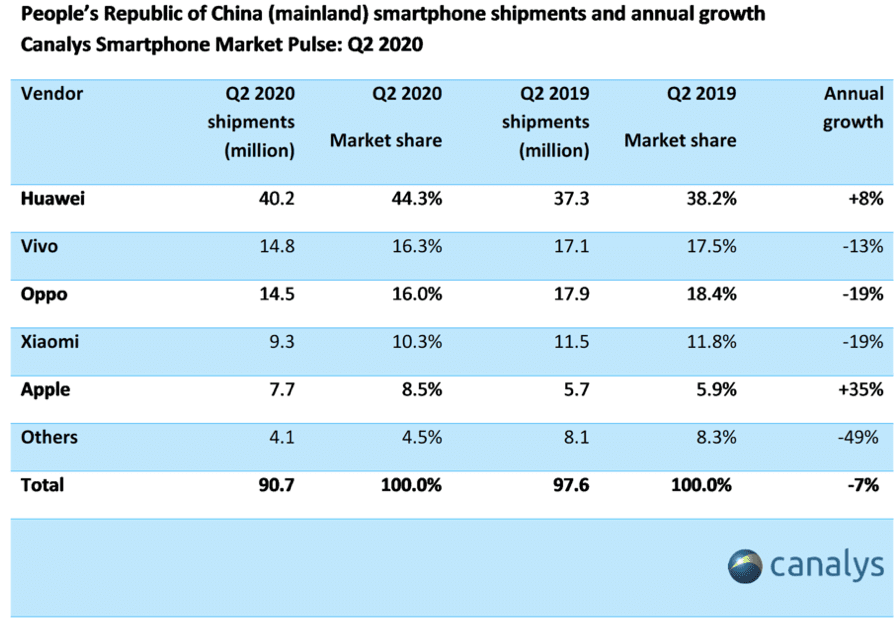 The biggest winner, however, was Huawei, whichled its home market, shipping 40.2 million units in quarter two and extending its market share to 44%. Vivo and Oppo maintained second and third place, growing 23% and 16% sequentially. Xiaomi, in fourth place, shipped 9.3 million units with 21% quarter on quarter growth.
"The launch of the low-cost new iPhone SE right after the Chinese market reopened in April created a real buzz, with promotions around installment plans and trade-in offers." Canalys Senior Analyst Jason Low says. "Lower price points work exceptionally well with online channels, where e-retailers can couple a device with a wide range of payment options and bundling offers. Sales subsidies, in this case, are highly effective too. The level of collaboration between Apple and e-commerce players is new, the results of which are welcomed by consumers."
Canalys forecasts China's smartphone shipments to reach 325 million in 2020.
"Although there is a small domestic resurgence of COVID-19 cases in China, overall business activities and economic recovery are unlikely to reverse," says Low. "Consumer demand for smartphones is likely to improve gradually, with growth uncertainties persisting. Chinese vendors are keen to rapidly capitalize on China's recovery to offset their losses in other major markets, where the negative impact of coronavirus may be more prolonged."