In an article on its Newsroom web page, Apple says it open a collective $60 billion dollars with 9,000 American suppliers in 2018, supporting 450,000 jobs.
Altogether, the tech giant says it's responsible for creating and supporting 2.4 million U.S. jobs across all 50 states, four times the number of American jobs attributable to the company eight years ago. Apple is on pace to directly contribute $350 billion to the US economy by 2023, which the company announced in January of 2018.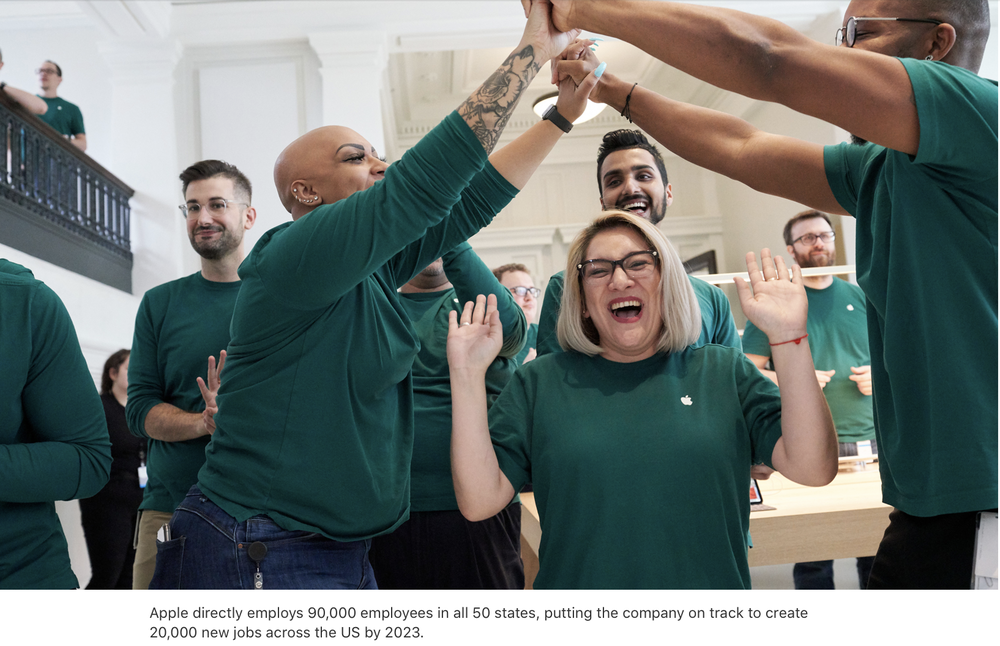 A lot of the jobs Apple supports in the U.S. are found in the app economy, which is currently responsible for 1.9 million American jobs — an increase of 325,000 in the last two and a half years. Several states saw double-digit growth during that period, including a 43% increase in North Carolina, representing almost 15,000 new jobs, and a 50% increase in Florida, which added almost 30,000 new jobs. Pennsylvania saw a 64% increase in growth, going from 40,800 jobs in 2016 to more than 67,000 today.
Apple also directly employs 90,000 employees in all 50 states, putting the company on track to create 20,000 new jobs across the U.S. by 2023. Earlier this year in San Diego, Apple announced an expansion that will include 1,200 direct jobs and a new campus featuring hundreds of thousands of square feet of office, lab and research space. In Seattle, Apple will add 2,000 new employees in highly skilled engineering positions.