Apple has been granted a patent (number 10,009,852) for "cold temperature power throttling at a mobile computing device." The goal is to reduce the likelihood of an unexpected power down event on an iPhone in cold weather environments.
Per the patent, the smartphone would be equipped with a power management solution configured to determine that a monitored temperature at the device (at the battery of the mobile device) is below a certain threshold level, and whether a hardware component (such as a camera) is active or inactive.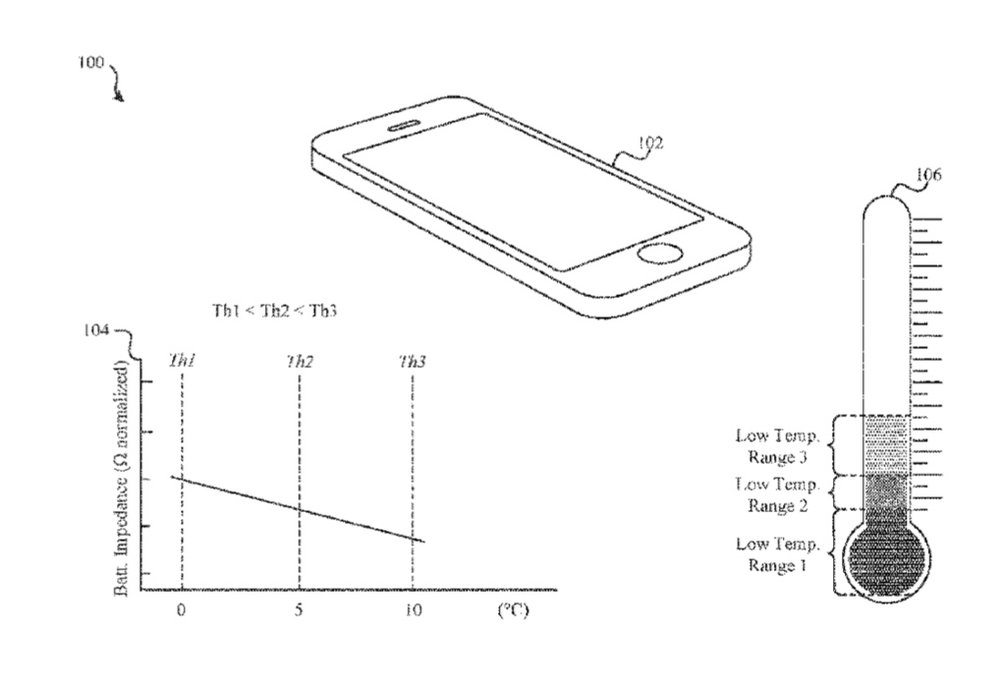 Then, based on these determinations, the iPhone can select a throttle setting from a first set of throttle settings when the hardware component is active, and a second set of throttle settings when the hardware component is inactive. Subsequently the iPhone can throttle power consumption for one or more of its components according to the selected throttle setting.
In the patent filing, Apple notes that large and/or sudden changes to the terminal voltage of a battery may result in an unexpected power down of a mobile device. The impedance of a battery is dependent upon a number of factors, such as the battery's size, chemical properties, age, temperature, discharge current, etc. Apple says that what's needed is a power management solution that can monitor power system performance at a mobile device and reduce unexpected power down events.
Of course, Apple files for — and is granted — lots of patents by the U.S. Patent & Trademark Office. Many are for inventions that never see the light of day. However, you never can tell which ones will materialize in a real product.
---
Like this article? Consider supporting Apple World Today with a $5 monthly Team AWT membership.