The world's most valuable brands have seen their total brand value increase by 5.9% despite the economic, social and personal impacts of COVID-19, according to the 2020 BrandZ Top 100 Most Valuable Global Brands ranking released today by WPP and Kantar. Apple retains its runner-up spot.
The total brand value of the Top 100 global brands reached US$5 trillion, equivalent to the annual GDP of Japan. It has increased by 245% since 2006, when the total brand value first reached US$1 trillion. The ranking uses valuations data incorporating stock price performance from April 2020 to reflect the impact of COVID-19.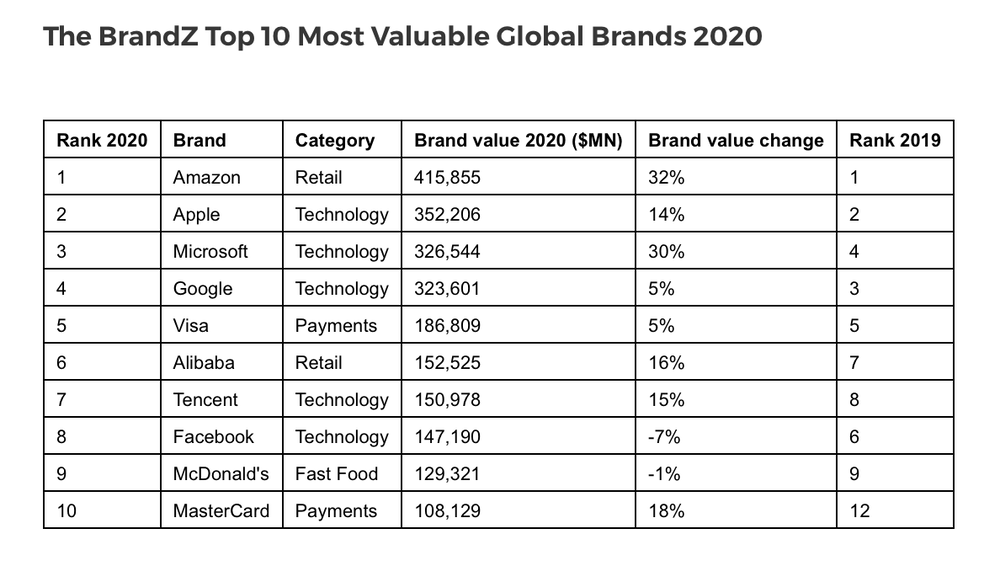 Against a backdrop of uncertainty, those companies that have consistently invested in longer-term marketing and in building strong brands have managed to stave off the worst of the crisis. Prior to the global pandemic, total brand value of the Top 100 brands was set to increase by 9%.
Amazon maintained its position as the world's most valuable brand, growing 32% to $415.9 billion. Having first entered the BrandZ Global Top 100 Most Valuable Brands ranking in 2006, Amazon's value grew by almost $100 billion this year and accounts for a third of the Top 100's total growth.
Apple maintained its position as the second most valuable global brand (+14%, $352.2 billion) while Microsoft regained the no. 3 position (+30%, $326.5 billion) ahead of Google (+5%, $323.6 billion) at no. 4.