Apple is perceived by technology professionals to be the "most technologically advanced" company worldwide, according to a September survey by Decision Analyst.
The marketing research and analytical consulting firm. Decision Analyst surveyed more than 1,000 technology professionals worldwide — a group that includes engineers, scientists, computer programmers, and other technology executives. Survey participants were shown a list of 68 leading technology companies and asked to choose the five "most technologically advanced" companies. Apple was chosen by a higher percentage (46.9%) of technology professionals than any other company.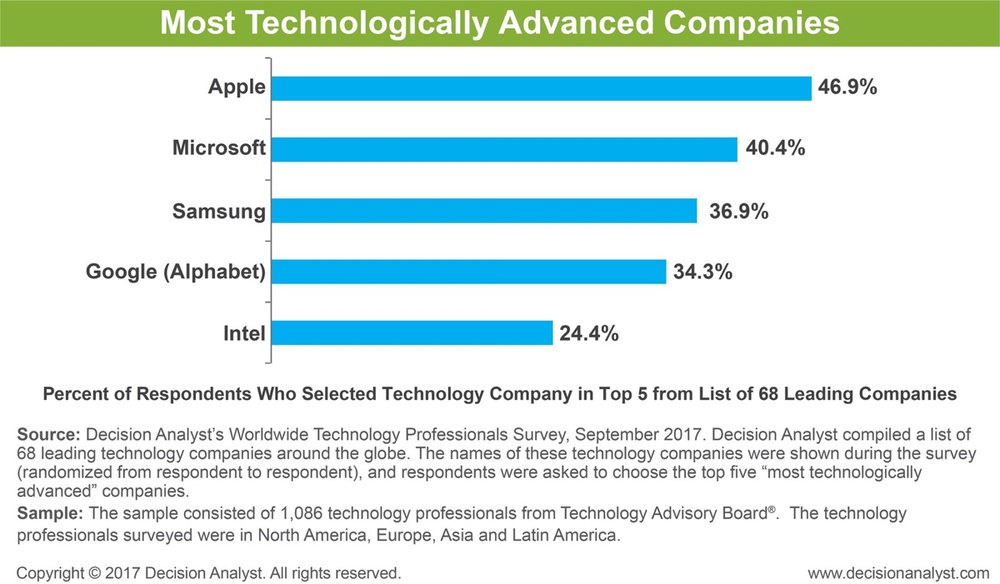 The perception of Apple as the top technology company was consistent across the technology professionals surveyed in the U.S., Canada, European Union, Russia, Asia, and Latin America. Other companies perceived as top technology leaders are Microsoft (40.4%), Samsung (36.9%), Google (34.3%) and Intel (24.4%).
Apple is a great example of the power of consistent positioning and consistent execution of a strategy based on technically superior products, innovative design, high-quality manufacturing, premium pricing, and consistent advertising of its strategic positioning story," says Jerry W. Thomas, president/CEO of Decision Analyst. "Apple demonstrates the power of strategy, long-term thinking and planning, careful and thoughtful research, consistent execution, and consistent marketing. Through ups and downs, Apple has never blinked or taken its eye off of the long-term goal. This stands in stark contrast to the short-term focus and short-term thinking that characterizes most large U.S. corporations."
Based on secondary research and pilot studies, Decision Analyst compiled a list of 68 leading technology companies around the globe. The names of these technology companies were shown during the survey (randomized from respondent to respondent), and participants were asked to choose the top five "most technologically advanced" companies.
Multiple answers were specified because of the large number of companies listed. Apple was chosen by a higher percentage of respondents than any other company. The sample size for the survey was 1,086. The standard error is about 3 percent, plus or minus, at a 95 percent level of confidence. The source of the online sample was the Technology Advisory Board. The survey was conducted in September.