Apple has filed for a patent (number 20200264006) for "spatial audio navigation" that, if realized, would allow users of an iPhone, iPad, AirPods, Apple Watch, an "Apple Car," or the rumored "Apple Glasses" (an augmented reality head-mounted display) to follow directions based on audio cues rather than vocal directions or visual cues.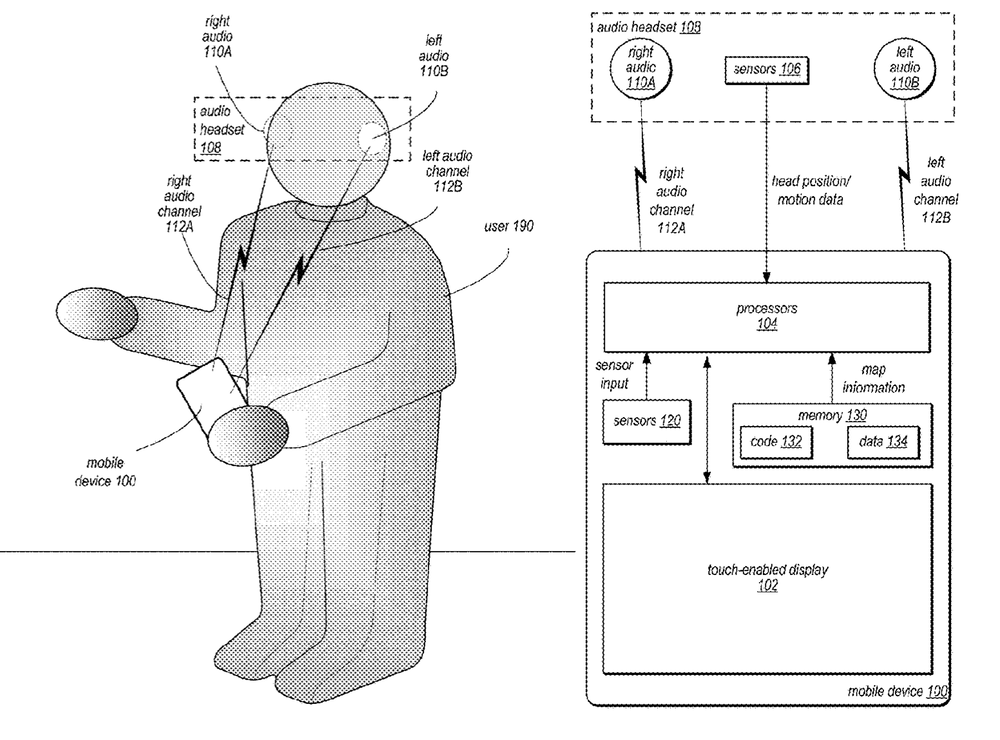 In the patent filing, the tech giant notes that navigation apps for various devices and vehicle A/V systems provide visual cues and/or vocal directions such as "turn left" or "turn right" to direct users to destinations. In the case of iPhones, iPads, and Apple Watches, navigation applications may be used when walking or riding a bicycle to guide a user on a path through a city, park, etc. using visual cues and/or vocal directions. A mobile multipurpose device navigation application may also be used in a vehicle, either directly through the mobile multipurpose device or through an interface to the vehicle's A/V system, to direct a user to a destination while driving using visual cues and/or vocal directions.
Virtual reality (VR) allows users to experience and/or interact with an immersive artificial environment, such that the user feels as if they were physically in that environment. Mixed reality (MR) covers a spectrum from augmented reality (AR) systems that combine computer generated information (referred to as virtual content) with views of the real world to augment or add virtual content to a user's view of their real environment, to augmented VR/AR systems that combine representations of real world objects with views of a computer generated 3D virtual world.
Apple's idea is that the simulated environments of virtual reality and/or the mixed environments of mixed reality could be used to provide an interactive user experience for multiple applications. For example, if you were riding a bike and listening to music, but still needing directions to your destination, your AirPods might "beep" in your right ear to inform you to turn right, or beep in your left ear to inform you to turn left.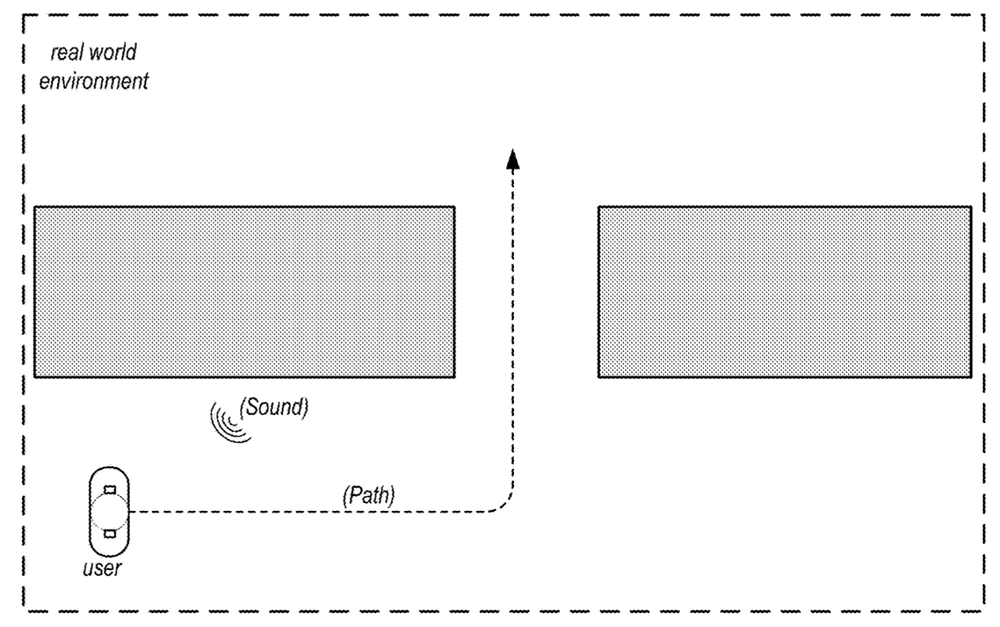 Alternatively, to guide a user on a path while he or she is listening to music, the apparent source of the music may be audibly placed in front of the user to guide the user along the path, and moved to the side of the user to prompt the user to make a turn on the path. This way the music isn't interrupted. The same can be done with other audio sources including but not limited to audio books, telephone conversations, simulated or captured ambient noise, simulated sounds such as tones, bells, sirens, or white noise, or recorded sounds such as the sound of a railroad train or a pack of wolves. (No, really, Apple mentions "a pack of wolves."
The patent filing also describes several different spatial audio navigation methods to direct a user when following a path using spatial audio-based cues.
Here's the summary of the invention: "Methods and apparatus for spatial audio navigation that may, for example, be implemented by mobile multipurpose devices. A spatial audio navigation system provides navigational information in audio form to direct users to target locations. The system uses directionality of audio played through a binaural audio device to provide navigational cues to the user.
"A current location, target location, and map information may be input to pathfinding algorithms to determine a real world path between the user's current location and the target location. The system may then use directional audio played through a headset to guide the user on the path from the current location to the target location. The system may implement one or more of several different spatial audio navigation methods to direct a user when following a path using spatial audio-based cues."