Apple has hired Sterling Crimson, best known for building a paint app for mobile VR headsets, reports Variety. The article says he'll be working as a prototyping researcher at the tech giant.
His Cyber Paint app (pictured) allows VR users to draw their own 2D and 360-degree pictures while wearing their headsets. The tool is currently available for Oculus Go, Daydream, GearVR and Vive Focus, and was purpose-built with these mobile headsets in mind: "Cyber Paint is heavily optimized for mobile VR allowing for 4k 360° photosphere paintings and fluid simulation effects at 60 fps on 2015 era smart phones," Crispin explains on his Linkedin page.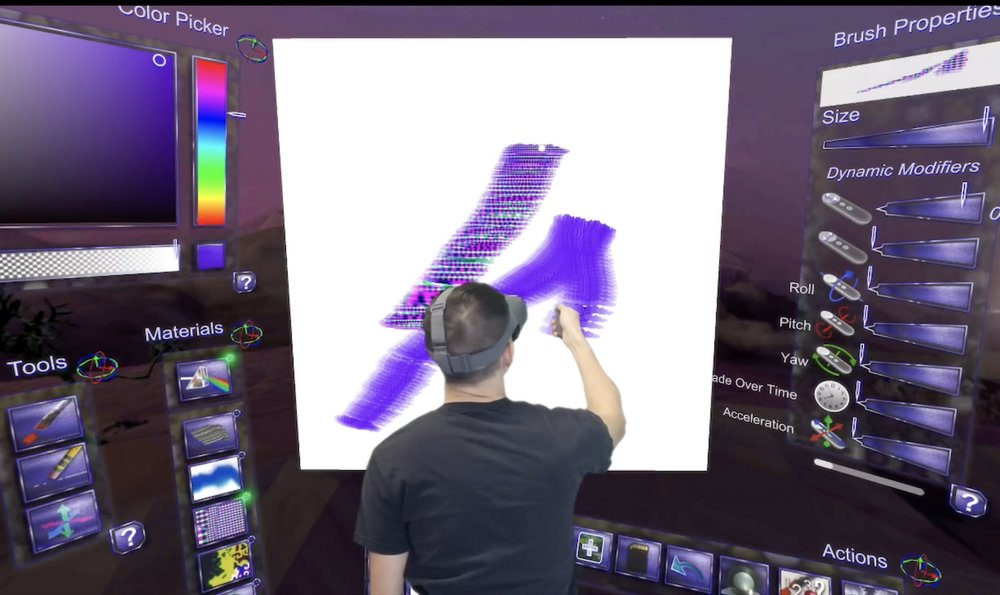 Apple is believed to be working on its own VR/AR headset. Venture capitalist Gene Munster thinks "Apple Glasses" will arrive in 2020.
"We believe Apple see's the AR future as a combination of the iPhone and some form of a wearable," Munster predicts. "With an average sale price of $1,300 we expect initial demand to be limited at just over 3 million units compared to 242 million iPhones that year."
<!— code from sekindo - Appleworld.today In-Article - outstream —>

<!— code from sekindo —>
Bloomberg says the Cupertino, California-based company is working on several AR products, including digital spectacles that could connect wirelessly to an iPhone and beam content—movies, maps and more—to the wearer. Apple has applied for multiple patents regarding AR and scooped up some AR-related companies. In 2015, the tech giant purchased Metaio, a company makes Metaio Creator, an AR authoring tool. Metaio says it allows for quick and easy creation and deployment of AR scenarios that are based on the latest tracking technologies.
In 2013, Apple bought PrimeSense, an Israeli maker of chips that enable three-dimensional (3D) machine vision. The chip's 3D sensors are designed to enable nature interaction between people and devices and between devices and their surroundings. Its machine vision products map out 3D environments and track movements of bodies, faces and facial expressions.