Apple has both great challenges, and great opportunities, with the HomePod and Apple TV. The worldwide smart home devices market — inclusive of smart speakers, digital media adapters, lighting, thermostats, and more — is forecast to ship 549.5 million devices in 2018, growing 26.8% over the prior year, according to the International Data Corporation (IDC) Worldwide Quarterly Smart Home Device Tracker.
The good news for the HomePod and Apple TV: the hottest two categories, smart speakers and video entertainment products, are expected to represent 71% of the market in 2018 and will see a compound annual growth rate (CAGR) of 12.0% from 2018-2022, notes the research group. The bad news for Apple's speaker: Amazon's Alexa is dominating the former category.
"The race for dominance in the smart speaker segment is becoming fierce," says Adam Wright, senior research analyst for IDC's Consumer IoT Program. "Smart speakers are one of the primary modes of access to a smart assistant, and consumer awareness and adoption of these devices and platforms is increasing rapidly thanks in large part to extensive marketing campaigns by Amazon, Google, and Apple. Amazon's portfolio of Alexa-enabled speakers continues to represent the lion's share of the market, but Google is gaining momentum and showing signs of closing the gap rather quickly. Apple, on the other hand, is struggling to get out of the gate with sluggish HomePod sales and shipments – in part due to the device's high price point and Siri's inferior performance as a smart assistant platform compared to Alexa and Google Assistant."
Obviously, the HomePod needs some improvements. More reliable Siri is one area, but I'm sure that's in the works. Support for more streaming services beyond Apple Music would also help. And perhaps Apple will release a smaller, less expensive model (the HomePod mini) and/or a bigger, more expensive, home theater version (a HomePod with Dolby Atmos support would be sweet).
Apple is also in the same boat with its Apple TV set-top box. IDC says that the video entertainment category, comprised largely of smart TVs and digital media adapters, will be the largest part of the smart home market throughout the forecast period.
"With TVs being the centerpiece of many homes, device and platform makers are competing for users' attention with the inclusion of smart assistants and other over-the-top services," says Jitesh Ubrani senior research analyst for IDC Mobile Device Trackers. "While Amazon's Alexa leads in this space today, the Google Assistant is expected to gain dominance in the future as an increasing number of international brands include support and consumers' familiarity with the Assistant on smartphones leads to growing demand for the Assistant on TVs."
However, the number of smart assistant-enabled TVs and digital media adapters shipped remains relatively small as the smart speaker overshadows other form factors in which smart assistants can be accessed in the home. IDC says this trend is expected to change in the near future as more vendors come to market with smart assistant-embedded entertainment devices, as witnessed by the release of Amazon's Fire TV Cube with Alexa and LG's lineup of 2018 OLED and Super UHD LCD TVs with Google Assistant."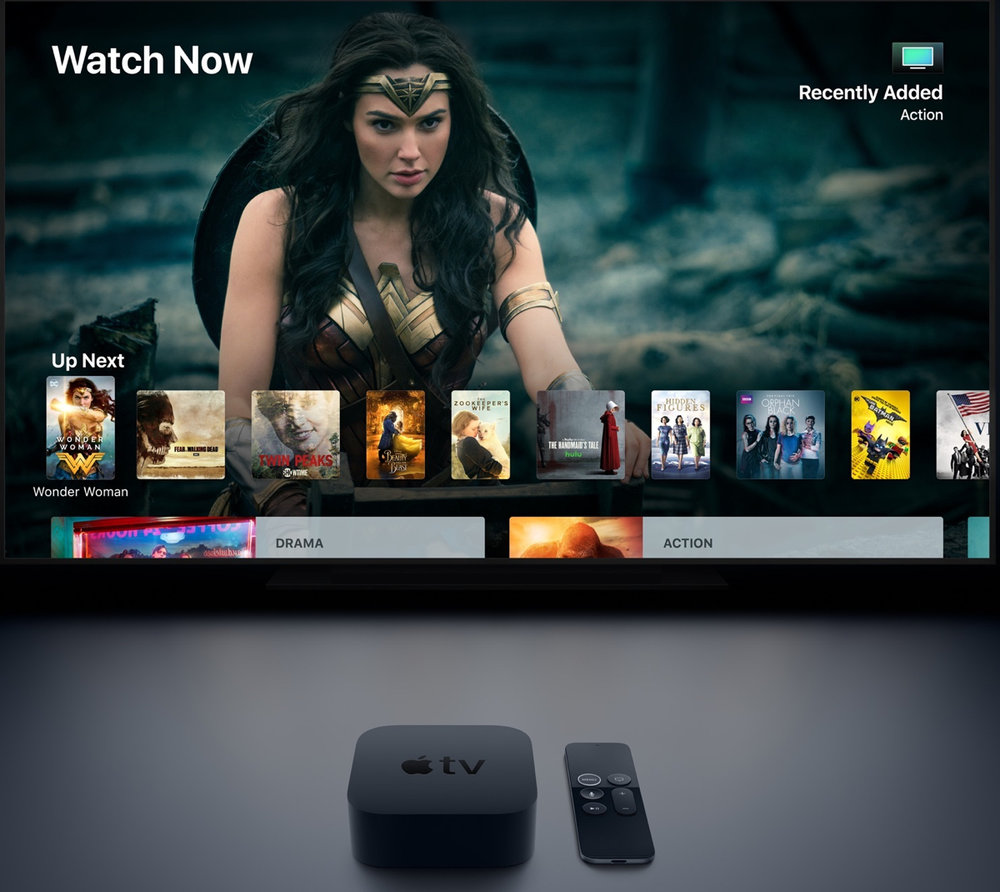 As for the Apple TV, expect beefed-up Siri features, better HomePod syncing, and an enhanced TV app. And it would be nice to see Apple promote the set-top box more as a gaming device. Of course, as with the Mac, gaming doesn't seem too high on Apple's list of priorities.
---
Like this article? Consider supporting Apple World Today with a $5 monthly Team AWT membership.