Apple has been granted a patent (number 10,338,344) for a small form telephoto camera as it looks for more ways to improve the photo/video abilities of its iPhone and iPad products.
In the patent filing, Apple notes that the advent of small, mobile multipurpose devices such as smartphones and tablet or pad devices has resulted in a need for high-resolution, small form factor cameras for integration in the devices. However, due to limitations of conventional camera technology, conventional small cameras used in such devices tend to capture images at lower resolutions and/or with lower image quality than can be achieved with larger, higher quality cameras.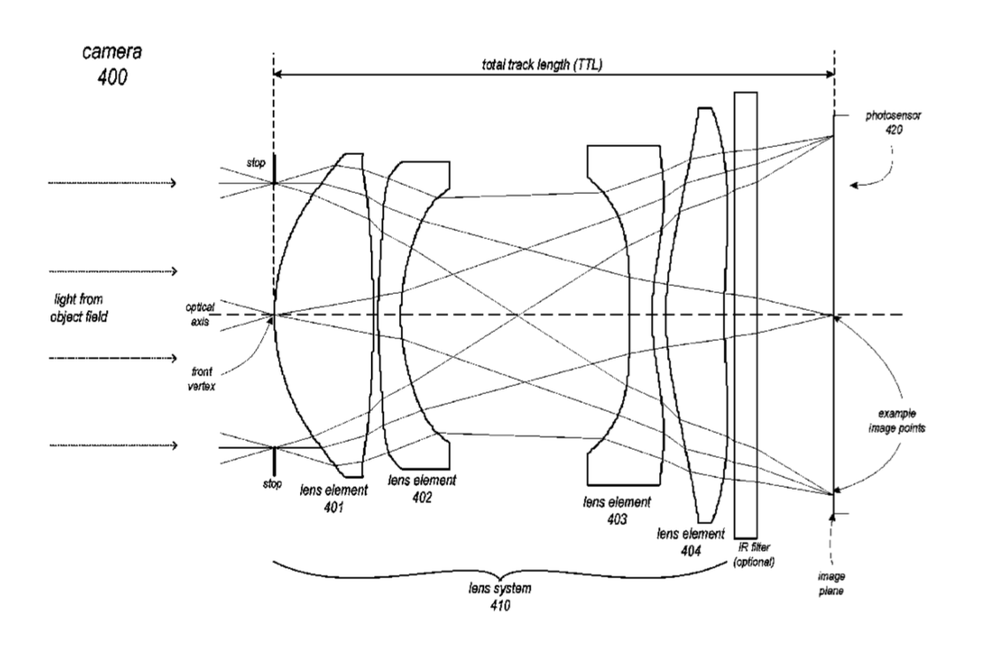 Apple says that achieving higher resolution with small package size cameras generally requires use of a photosensor with small pixel size and a good, compact imaging lens system. Advances in technology have achieved reduction of the pixel size in photosensors.
However, as photosensors become more compact and powerful, demand for compact imaging lens system with improved imaging quality performance has increased. Apple wants to take advantage of these developments in its iPhone and iPad products.
Here's the summary of the patent: "A compact telephoto lens system that may be used in a small form factor cameras. The lens system may include five lens elements with refractive power. Alternatively, the lens system may include four lens elements with refractive power. At least one of the object side and image side surfaces of at least one of the lens elements is aspheric. Total track length (TTL) of the lens system may be 6.0 mm or less.
"Focal length f of the lens system may be at or about 7.0 mm (for example, within a range of 6.5-7.5 mm). Lens elements are selected and configured so that the telephoto ratio (TTL/f) satisfies the relation 0.74<TTL/f<1.0. Materials, radii of curvature, shapes, sizes, spacing, and aspheric coefficients of the lens elements may be selected to achieve quality optical performance and high image resolution in a small form factor telephoto camera."
Of course, Apple files for — and is granted — lots of patents by the U.S. Patent & Trademark Office. Many are for inventions that never see the light of day. However, you never can tell which ones will materialize in a real product.