Apple has been granted a patent (number 10,838,462) for a future version of its MagSafe cases that debuted with the line of iPhone 12 models.
MagSafe is designed, in Apple's words, to "improve wireless charging for a better, more efficient experience, and introduces an ecosystem of easy-to-attach accessories that beautifully complement iPhone 12 modes." It features an array of magnets around a wireless charging coil, optimized for alignment and efficiency.
The new patent involves a case that could tell how warm your iPhone is running. A majority of the heat is dissipated from a smartphone and similar devices via convection and/or conduction. Air circulating around the surfaces of the device can carry away heat via convection. Similarly, objects in contact with the device can carry away heat via conduction.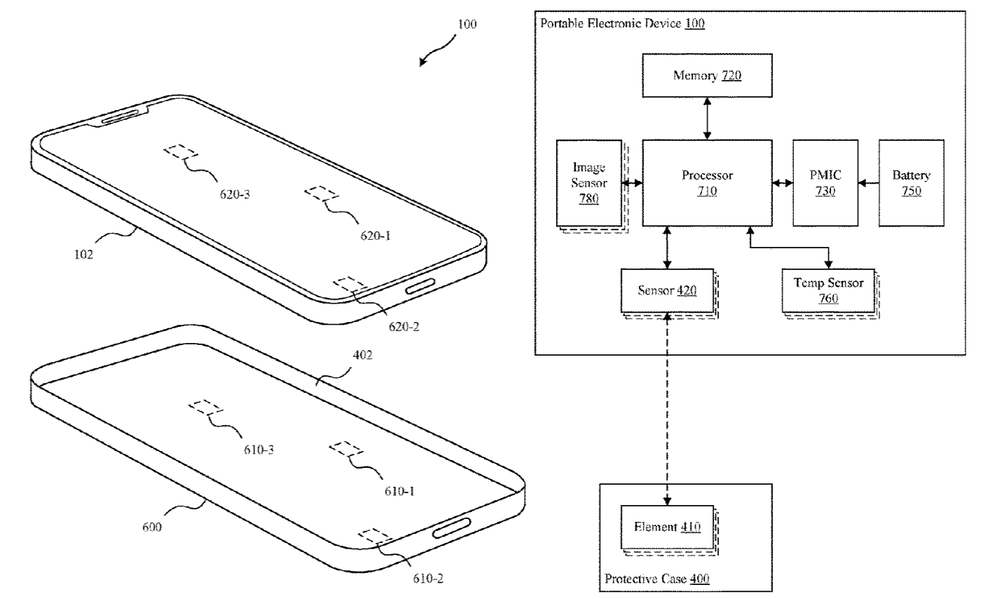 However, Apple says that the power of the device increases and the design of the device changes, sometimes the amount of heat being generated cannot be adequately dissipated. In such cases, the temperature of the device will increase, which could lead to problems.
Even if the temperature does not increase to the point of causing failures, the device itself could be uncomfortable to handle. Apple says that new techniques are desired for dissipating heat from the device or reducing an amount of heat generated by the device. The tech giant's idea is a MagSafe case that would allow an iPhone to run at higher temperatures when the case is installed.
Here's the summary of the invention: "This application relates to adjusting an operation of a portable electronic device based on the detection of a protective case. A processor of the portable electronic device is configured to receive a signal that indicates the portable electronic device is in contact with and retained by the protective case. Responsive to receiving the signal, the processor is configured to allow the component to transition from a first operating state to a second operating state.
"The first operating state is associated with a first operating temperature that corresponds to a first temperature range at a surface of a housing for the portable electronic device. The second operating state is associated with a second operating temperature that corresponds to a second temperature range at the surface of the housing. The second operating temperature is greater than the first operating temperature."