Apple has filed for a new patent (number 2020033891) for a "stylus-based input system for a head-mounted device." It discloses ways that the Apple Pencil could work with the rumored "Apple Glasses," an augmented reality/virtual reality/mixed reality head-mounted display (HMD).
The patent is for a tracking system that includes a stylus comprising a light emitter, a head-mounted device comprising an optical sensor configured to detect the light emitter, and a processor communicatively coupled to the optical sensor and configured to determine a position of the stylus based on detection of the light emitted.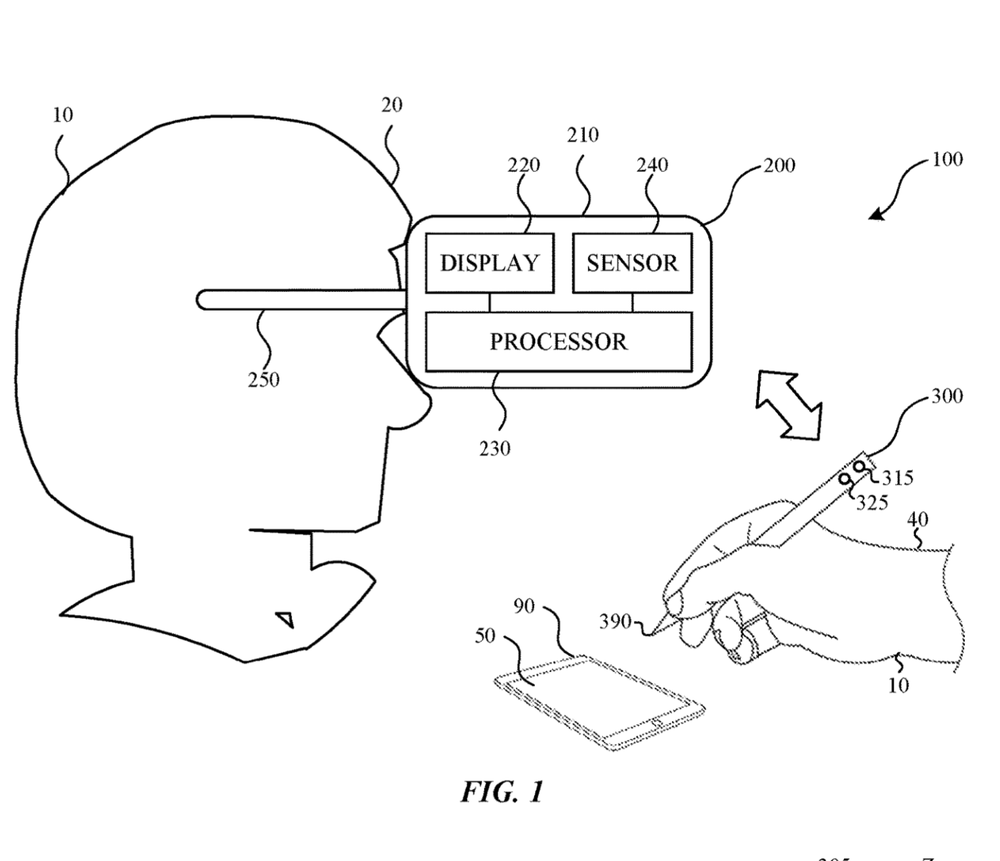 In other words, you'd be able to write or draw on an iPad (and, perhaps eventually, an iPhone) and the text or images could be overlaid on the view you're seeing when wearing Apple Glasses. What's more, the Apple Pencil could be moved in the air and its movements followed in the head-mounted display.
Why the need for such interaction? In the patent filing, Apple notes that an HMD can be worn by a user to display visual information within the field of view of the user. The HMD can be used as a virtual reality (VR) system, an augmented reality (AR) system, and/or a mixed reality (MR) system. A user may observe outputs provided by the head-mounted device, such as visual information provided on a display.
The display can optionally allow a user to observe an environment outside of the head-mounted device. Other outputs provided by the head-mounted device can include speaker output and/or haptic feedback. A user may further interact with the head-mounted device by providing inputs for processing by one or more components of the head-mounted device. For example, the user can provide tactile inputs, voice commands, and other inputs while the device is mounted to the user's head.
When it comes to Apple Glasses, such a device will arrive next year or 2022, depending on which rumor you believe. It will be a head-mounted display. Or may have a design like "normal" glasses. Or it may be available in both. The Apple Glasses may or may not have to be tethered to an iPhone to work. Other rumors say that Apple Glasses could have a custom-build Apple chip and a dedicated operating system dubbed "rOS" for "reality operating system."
(Dennis Sellers has been covering the Apple industry since 1996. In addition to"Apple World Today," he also runs his own freelance writing/editing service. If you want more info about the latter, email him at dennis.sellers@comcast.net.)