First it was the new Mac Pro and Pro Display XDR, then the 16-inch MacBook Pro. Apple may have even more plans for its "power users" as evidenced by a patent filing (number 10,602,636) for a "sled, tray, and shelf for a computer data center.
Computer data centers are facilities that contain racks or shelves of computer systems and their associated components such as power supplies and telecommunications systems. Large data centers house hundreds, often thousands, of separate computers, which are connected for communications with computers in the data center and with telecommunication networks such as the Internet, thereby forming the essential infrastructure of "cloud computing."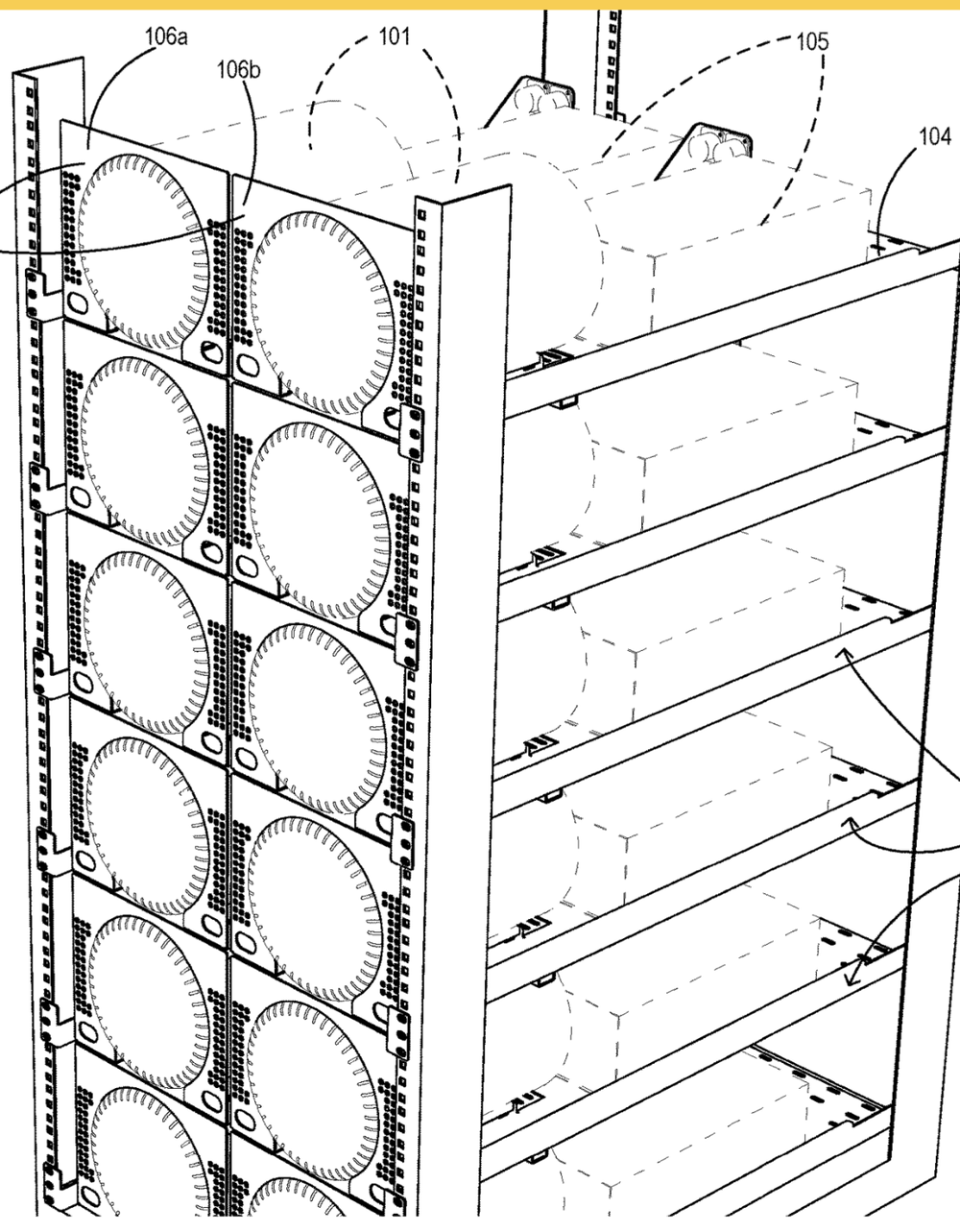 The racks of computers often extend from floor to ceiling, mounted atop hollow flooring structures called plenums that route cooling air to the various racks, with heat removal vents positioned above the racks. A facility housing thousands of computers uses many kilowatts of electricity and generates large amounts of heat that must be removed so that the computers can operate within their specified ranges of operating temperatures.
Apple notes that space, cooling, power cabling, and communications cabling requirements are critical for modern data centers. Floor space in terms of square feet footprint per rack and height requirements for each rack of computers are limited, so as to provide required cooling air and power requirements, as well as security within physical cages and accessibility for configuration and maintenance.
Apple says that the Mac Pro is "popular for certain computing applications." Although it's not typically considered to be a data center type computer device, it possesses certain features that make it desirable for deployment in data centers. Apple's is at least considering making computer center racks that house Mac Pros and Mac minis
Here's the summary of the patent filing: "An arrangement for mounting and supporting a plurality of cylindrical form or other computer systems, for example Apple Mac Pro cylindrical form computer systems, in a data center so as to optimize cooling air flow, access to cabling, and maximized use of space. A plurality of shelf assemblies is mounted to a computer center rack.
"Each shelf assembly comprises a tray that supports a pair of slidable sleds. Each sled supports a cylindrical form computer enclosure in an axially horizontal configuration, and includes a sled face that exposes a top surface of a computer enclosure. Air flow perforations in the sled face direct air into the space behind the sled face and across a mounted computer enclosure. The tray and sled provides a convenient arrangement for power and communications cabling, as well as directs a cooling air flow through openings in the trays and sleds upwardly across computer enclosures."