Apple continues to show its interest in health/fitness technology with the filing of a patent (number 20180042556) for a "vital signs monitoring system." Such a system would seem to work with the company's HealthKit and ResearchKit products.
ResearchKit turns and iPhone into a tool for medical research by helping doctors, scientists and other researchers gather data more frequently and more accurately from participants anywhere in the world using iOS apps. HealthKit is a developer application programming interface (API) included in the iOS SDK (Software Development Kit) for the Mac. It is used by software developers to design applications that have extensibility and that can interact with the Health application on iOS.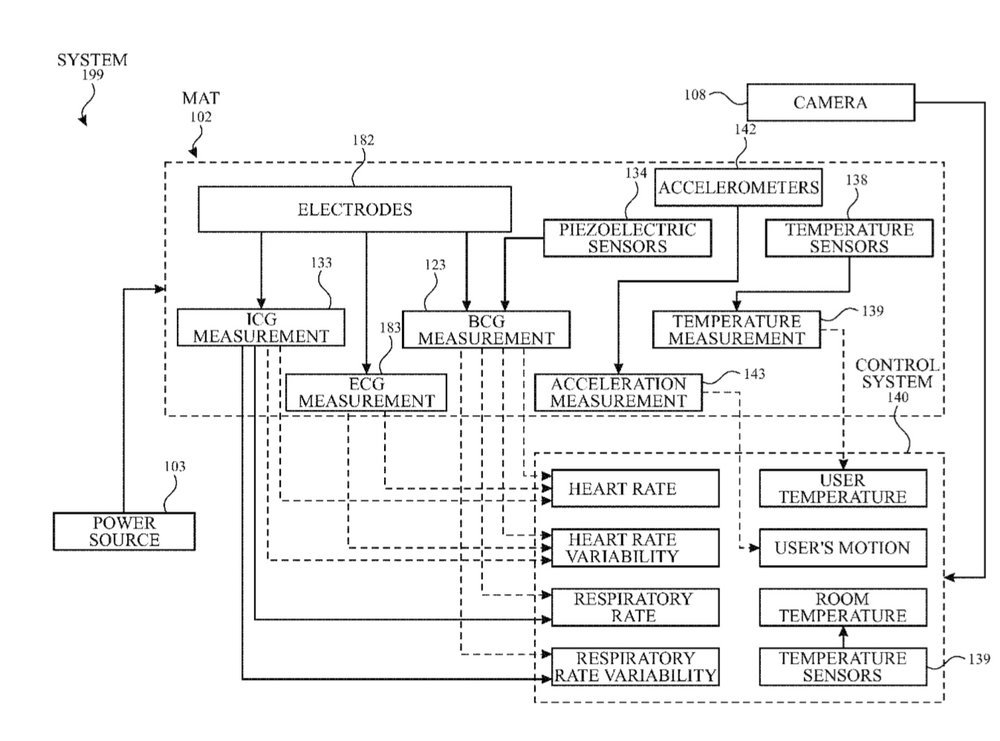 In the patent filing, Apple says that, traditionally, monitoring a person's sleep or vital signs has required expensive and bulky equipment. Some systems require that the monitoring be performed away from home in a medical facility and/or require the equipment to attach to or directly contact the person, which can lead to discomfort and can lead to inaccurate analysis due to disruption of the person's sleep. 
What's more, these systems are configured to determine the vital signs based on one type of measurement or mode of operation. And they're configured for monitoring only a single person. These systems lack the capability of not only monitoring multiple users, but also incorporating the analysis of a first user into the analysis of a second user, whose sleep may be affected by the first user. Apple wants to take such systems a step further.
Here's Apple's summary of the invention: ". The monitoring system can include a plurality of sensors including, but not limited to, electrodes, piezoelectric sensors, temperature sensors, and accelerometers. The monitoring system can be capable of operating in one or more operation modes such as, for example: capacitance measurement mode, electrical measurement mode, piezoelectric measurement mode, temperature measurement mode, acceleration measurement mode, impedance measurement mode, and standby mode. 
"Based on the measured values, the monitoring system can analyze the user's sleep, provide feedback and suggestions to the user, and/or can adjust or control the environmental conditions to improve the user's sleep. The monitoring system can further be capable of analyzing the sleep of the user(s) without directly contacting or attaching uncomfortable probes to the user(s) and without having to analyze the sleep in an unknown environment (e.g., a medical facility)."
Of course, Apple files for — and is granted — lots of patents by the U.S. Patent & Trademark Office. Many are for inventions that never see the light of day. However, you never can tell which ones will materialize in a real product.