The installed base of Apple device users reached an all-time high during a fiscal 2020 second quarter that ended March 28, 2020, according to Chief Financial Officer Luca Maestri. The company expects iPhone sales to continue to decline in the current quarter, but predicts that Mac and iPad sales will actually grow as folks continue to work from home.
Here's a breakdown on product categories as noted by Maestro and CEO Tim Cook during an online conference with analyst and the media.
The iPhone brought in US$28.96 billion in the quarter, a year-on-year decrease of 7% from $31 billion. Supply and demand for the smartphone were both affected by COVID-19 at some point during the second quarter.
There was a "slight elongation" in the iPhone replacement cycle. Despite all this the active installed base of iPhones is at an all-time high. The smartphone accounts for 50% of Apple's revenue. Another positive note: the Bank of America purchasing "tens of thousands" of iOS devices for its workforc
Mac revenue for the second quarter was $5.4 billion, which was down from $5.5 billion last year. iPad revenue was $4.4 billion, down from $4.9 billion one year ago.
Maestro says that (as Apple always says) about half of Mac and iPad purchases were were new users. The installed base for both reached an all-time high. And, as mentioned, Maestri and Cook said they expect sales for both categories would go up this quarter as folks continue to work remotely. They add that the iPhone isn't likely to see the same boost
The Mac accounts for 9% of Apple's revenue, and the iPad accounts for 7%. Services tallies 24% and the Wearables/home/accessories category 11%.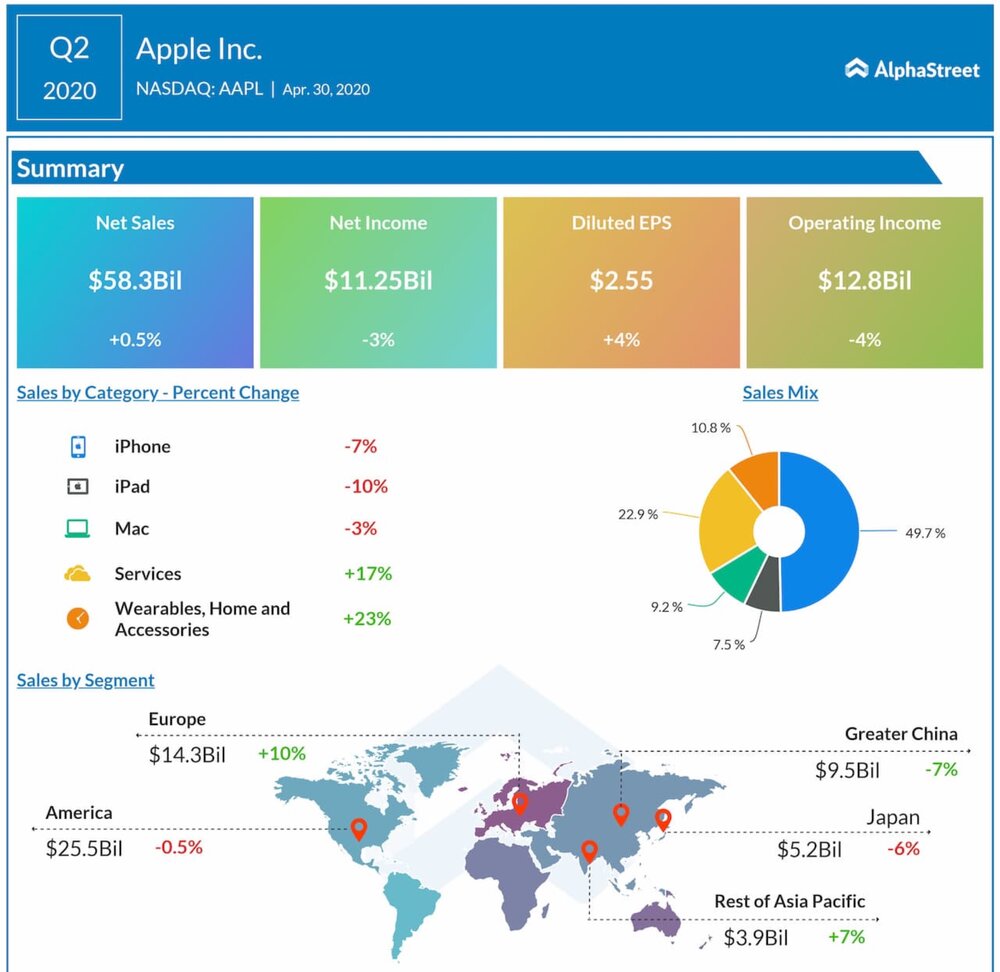 Services continued to rise, reaching hit $13.4 billion in fiscal quarter two. Apple services include Apple Music subscriptions, Apple TV+, Apple News, Apple Arcade, iCloud storage plans, paid apps from Apple's app stores, and Apple Care service plans, Apple Pay, etc.
Maestri said Apple TV+, Apple Arcade, and Apple Card continue to add new users, but didn't give specifics. However, he did say Apple News now has over 125 million subscribers. Maestri also noted that the quarter saw all-time revenue records set for the Apple App Store, Apple Music, Cloud Services, and App Store Search Ad revenue
Apple now has over 550 million paid subscriptions in total — up 125 million year-over-year. Cook says that Apple Services should reach 600 million paid subscriptions before the end of 2020
The "Wearables, Home, and Accessories" category —which includes AirPods, AirPods Pro, Apple Watch, and HomePod — reached $6.3 billion, up from the $5.1 billion recorded in quarter one of 2019. Maestri said that 75% of Apple Watch purchasers in quarter two were new to the product.
"Apple is developing most exciting pipeline of products ever while while contributing over $350 billion to the U.S. economy over five years," he said.