Since Steve and I can't cover everything, at the end of each week day, we'll offer this wrap-up of news items you should check out.
Apple has updated its Apple Events tvOS app for the Apple TV with a link to a live stream of the Oct. 30 "There's more in the making" event. It will be held Tuesday, Oct. 30, 10 a.m. (Eastern) at the Brooklyn Academy of Music, Howard Gilman Opera House.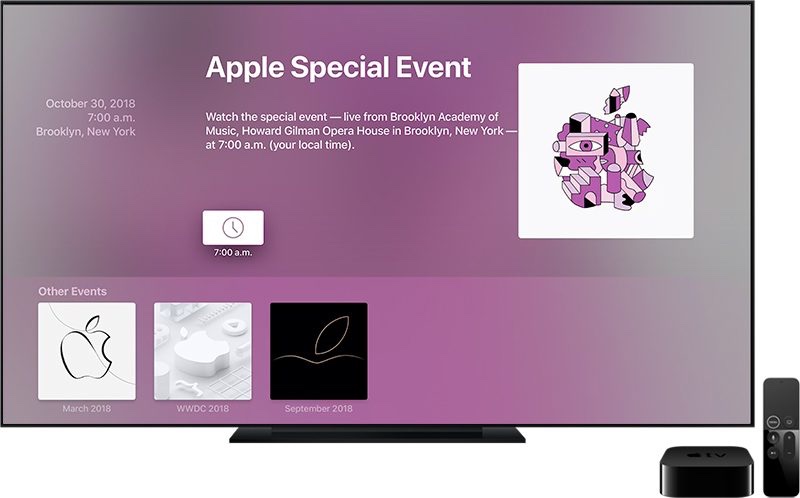 Apple has announced that company reps will attend the 2018 Conference on Empirical Methods in Natural Language Processing (EMNLP 2018), Oct. 31–Nov. 4 in Brussels, Belgium. The company will have a booth staffed with NLP experts from Apple.
As noted by AppleInsider (https://appleinsider.com/articles/18/10/25/shazam-users-on-every-platform-now-getting-apples-leading-commmitment-to-privacy), Shazam — the app/service that allows users to identify music, get song lyrics, and more —has started to warn users of upcoming changes to the way their data will be handled following the company's acquisition by Apple, with data being transferred to the iPhone producer's servers and maintained under Apple's privacy policies, rather than Shazam itself.
As noted by 9to5Mac, Apple's first retail store in Thailand will open next month at Bangkok's upcoming Iconsiam mall. The store will overlook the Chao Phraya River in a centrally located space with excellent visibility on the face of the massive new structure.
<!— code from sekindo - Appleworld.today In-Article - outstream —>

<!— code from sekindo —>
OWC has announced new pricing on its Aura and Aura Pro line of SSDs, the memory that has led the way in supporting most Apple 2010 and later models. This includes the MacBook Air (2013 to current), MacBook Pro (2013 – 2015), Mac mini (2014 – current), and more.
The New York Times has an article on how Apple chooses the top five stories on its News App. The article also looks at the pros and cons of human curation.
Billy Crudup (Gypsy, Almost Famous) and Gugu Mbatha-Raw (Black Mirror, A Wrinkle in Time) are set to co-star opposite Reese Witherspoon, Jennifer Aniston and Steve Carell in Apple's untitled morning show drama series, reports Deadline.