Apple has been granted a patent (number 9,128,540) by the U.S. Patent & Trademark Office for a "lens array for pattern projection and imaging." The patent, not the first such that Apple has filed, hints at Kinect-like features for future Macs.
This patent, and others like it (more on those in a second) almost certainly tie inbto Apple's purchase of PrimeSense, an Israeli gesture recognition company, in 2013. PrimeSense's sensing technology  was used to help power Microsoft's Xbox Kinect. The 3D sensing technology purportedly gives digital devices the ability to observe a scene in three dimensions.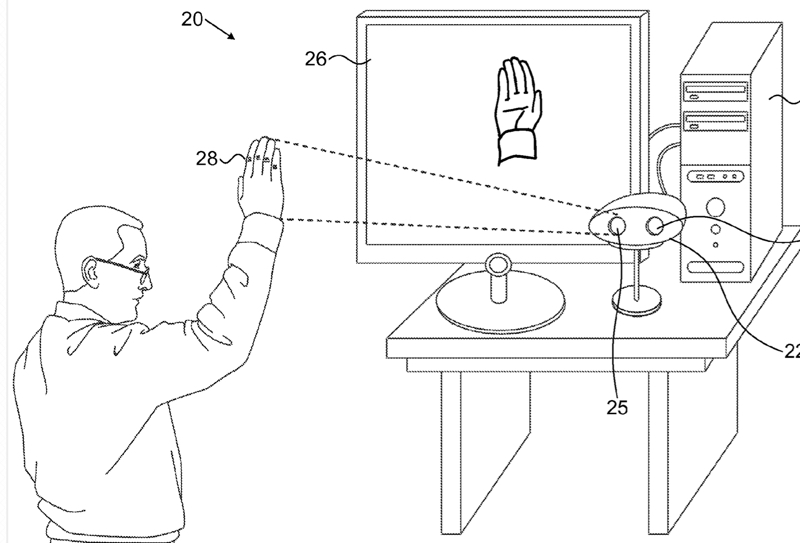 It translates these observations into a synchronized image stream (depth and color) — just like humans do.  It then takes those synchronized images and translates them into information such as: identification of people their body properties, movements and gestures; classification of objects such as furniture; and location of walls and floors.
Patent 9,128,540 involves a method for imaging that includes focusing optical radiation "so as to form respective first and second optical images of a scene on different, respective first and second regions of an array of detector elements." The focused optical radiation is filtered with different, respective first and second passbands for the first and second regions. A difference is taken between respective first and second input signals provided by the detector elements in the first and second regions so as to generate an output signal indicative of the difference.
In May Apple was granted a patent for "user interfaces based on three-dimensional sensing." In April the company won a patent for a "three dimensional user interface session control." It involves computer interfaces based on 3D sensing of parts of the user's body. April also saw the company granted a 3D gesture interface and a "desktop filter" that would let you implement a 3D graphical user interface on your Mac display.