Apple has been granted a patent (number 9,4176,706) for a "three dimensional user interface session control using depth sensors" that hints at a Mac user interface that utilizes gesture controls in much the same manner its Leap Motion's Leap control device.
Here's Apple's summary of the invention: "A method, including receiving, by a computer executing a non-tactile three dimensional (3D) user interface, a set of multiple 3D coordinates representing a gesture by a hand positioned within a field of view of a sensing device coupled to the computer, the gesture including a first motion in a first direction along a selected axis in space, followed by a second motion in a second direction, opposite to the first direction, along the selected axis. Upon detecting completion of the gesture, the non-tactile 3D user interface is transitioned from a first state to a second state."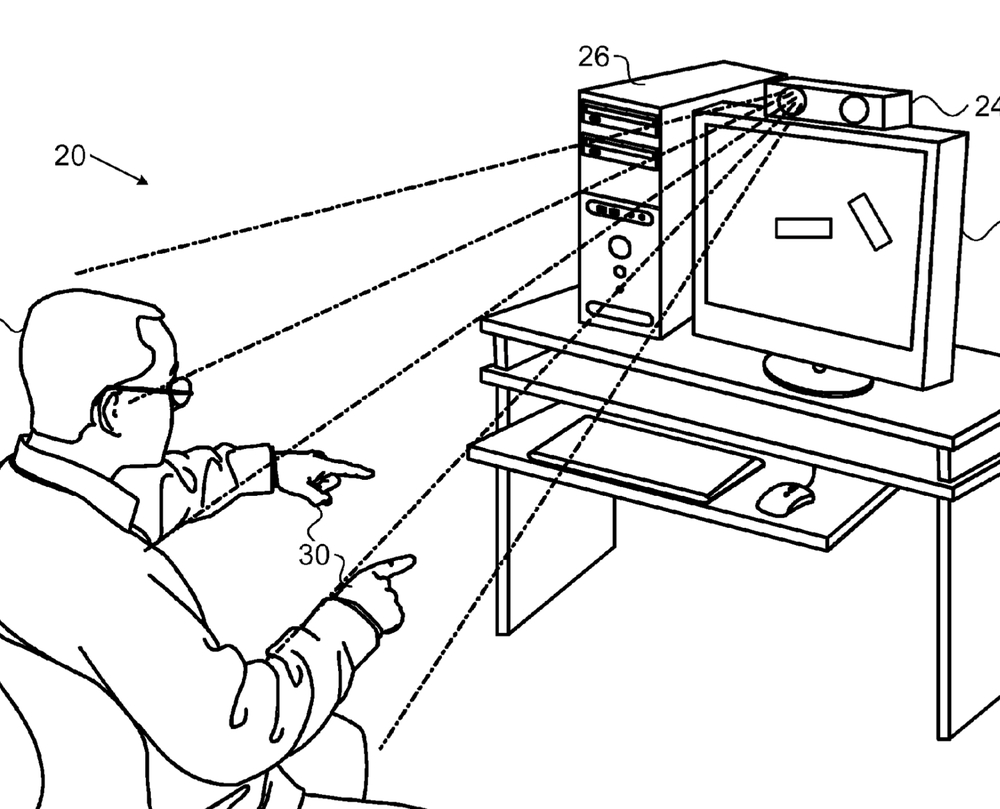 Of course, Apple has filed for/been granted various patents involving a gesture interface. Apple was granted a patent for a "lens array projector" that involves a projection-based 3D mapping solution. The result could be gesture recognition on Macs, Apple TVs and iOS devices akin to that of Microsoft's Xbox Kinect. Another 2014 patent filing for a "computer user interface system and method" could involve a Mac display with sensors built into all sides of the screen's bezel.
The sensors would recognize hand gestures. The gestures could be used to scrolling, selecting, zooming, and more. In 2013 Apple was granted a patent for gesture control of multimedia editing applications.
In 2013, Apple bought PrimeSense, an Israeli maker of chips that enable three-dimensional (3D) machine vision. The chip's 3D sensors are designed to enable nature interaction between people and devices and between devices and their surroundings. Its machine vision products map out 3D environments and track movements of bodies, faces and facial expressions.
And in 2010 Apple scooped up all of the shares of a Swedish face recognition company called Polar Rose. The company had a service that allowed users to name people in their photos on photo sharing sites like Flickr and 23hq.com using their Facebook contacts. Using their facial recognition Polar Rose applied auto-tagging for users.
Of course, Apple files for — and is granted — lots of patents by the U.S. Patent & Trademark Office. Many are for inventions that never see the light of day. However, you never can tell which ones will materialize in a real product.
---