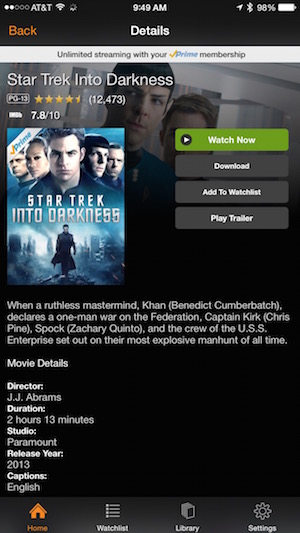 Amazon Prime members have always had the ability to do two things for $99 a year; get free regular shipping on all purchases and watch unlimited streaming video content on Amazon Prime Video. Today, Amazon added a new feature that will make it easier to watch that content when and where you want to. The updated and renamed Amazon Video app (free) now includes a way to download movies, TV shows, and original content to your iOS device for offline viewing.
There are some adjustments available to let you tweak both the amount of storage used by your downloaded content and the quality of that content. In some very limited testing (I downloaded Star Trek: Into Darkness) on a typical home Wi-Fi network, grabbing the 2 hour, 13 minute movie took almost exactly 40 minutes, so be sure to download the content before you have to run off to the airport to catch a flight.
One other great thing about the downloads; once you have them on your iOS device, they can be beamed to your HDTV using an Apple TV, Amazon Fire TV, or Amazon Fire TV Stick (among other devices). Anyone with an Amazon Prime account should really take advantage of the new app and the "free" content.