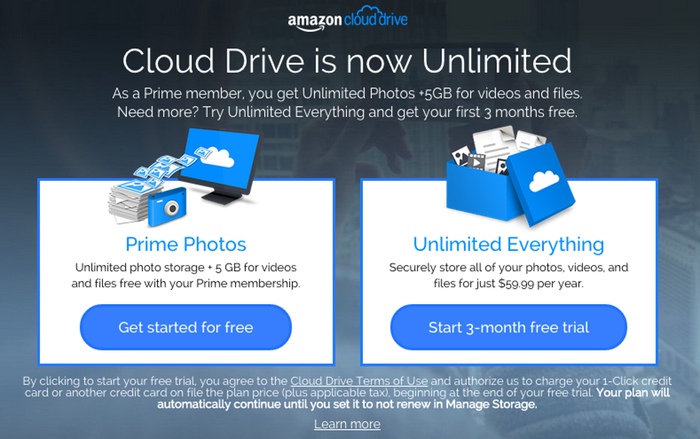 Amazon today announced that it was expanding its Cloud Drive service to include two new unlimited plans. The new Unlimited Photos provides unlimited photo storage and 5GB of video and file storage for $11.99 per year. The Unlimited Everything plans is a step up, allowing users to store an infinite number of photos, videos, music and documents for $59.99 a year.
"Most people have a lifetime of birthdays, vacations, holidays, and everyday moments stored across numerous devices. And, they don't know how many gigabytes of storage they need to back all of them up," said Josh Petersen, Director of Amazon Cloud Drive. "With the two new plans we are introducing today, customers don't need to worry about storage space—they now have an affordable, secure solution to store unlimited amounts of photos, videos, movies, music, and files in one convenient place."
Both new and existing Amazon customers can sign up for one of the plans now and receive a free 3-month trial. Apple owners can access Cloud Drive using Amazon's Cloud Drive website, the Cloud Drive Desktop app and Amazon Photos app for iOS.