Aircharge has added new iPhone 7 and 7 Plus cases to its range of '"Made for iPhone" (MFi) wireless charging accessories, completing the line which already includes iPhone 5/5s/SE/6/6s/6 Plus/6S Plus models.
With Apple yet to launch a smartphone with built-in wireless charging functions, the new Aircharge wireless charging cases are designed to enable easy and convenient wireless charging capabilities for the smartphones. Once the case is attached, power is sent directly to the iPhone via induction by placing the smartphone onto a compatible Qi wireless charger.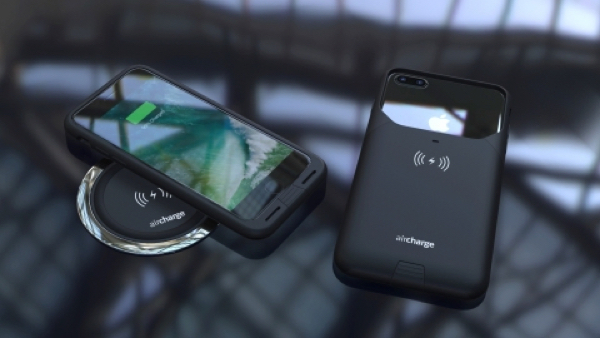 Both cases feature a slim and lightweight design and are made from durable materials that don't mark or attract dirt, according to Stefano Piccioli, Marketing manager at Aircharge. The hard tactile shell ensures a firm and comfortable grip and protects the iPhone reducing the risk of damage from knocks and falls, while the flexible top allows the phone to be inserted in one movement, she adds.
Both cases also feature a newly added retractable connector, allowing access to the Lightning port to connect headphones or enable traditional wired charging when needed. Carrying both MFi and Qi certification, the cases can be used in conjunction with any Qi wireless charger, Aircharge's own range of wireless chargers like the Executive charger or the Slimline charger.
The cases can also be used to charge wirelessly in more than 90 car models. The Aircharge MFi wireless charging case for iPhone7/7 Plus is currently available for pre-order here for $67.99. Shipments will begin in October.