I have been using iOS 9 for three months now, and there are some seemingly little features that make the entire iOS experience much more pleasurable. Without further ado, here's a list of my nine favorites.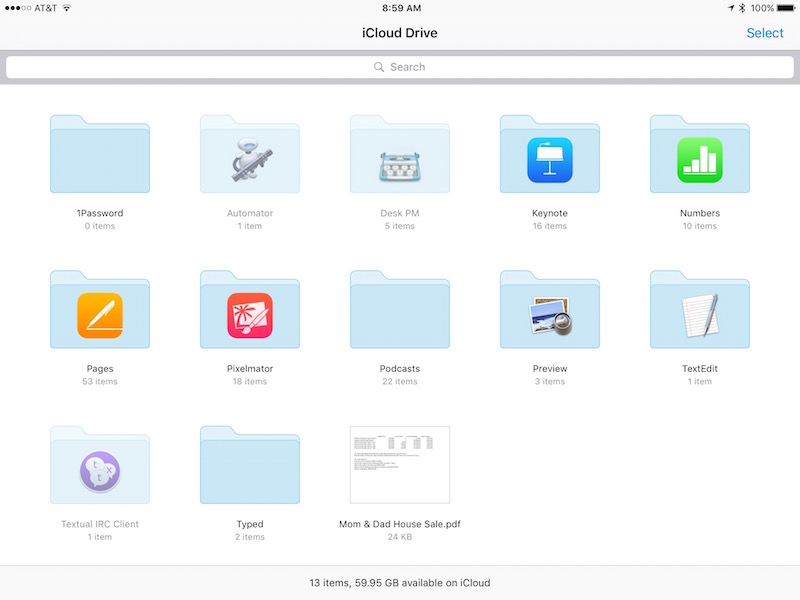 1) iCloud Drive App
Finally, it feels as if iOS actually has a file system. If you store documents on iCloud, you can now flip a switch to show the iCloud Drive app on your home screen. Just go to Settings > iCloud > iCloud Drive then make sure that the "Show on Home Screen" button is on (green). When you tap on the iCloud Drive app icon, you'll see a set of folders and file icons that will make you feel like you're working on your Mac (see image above).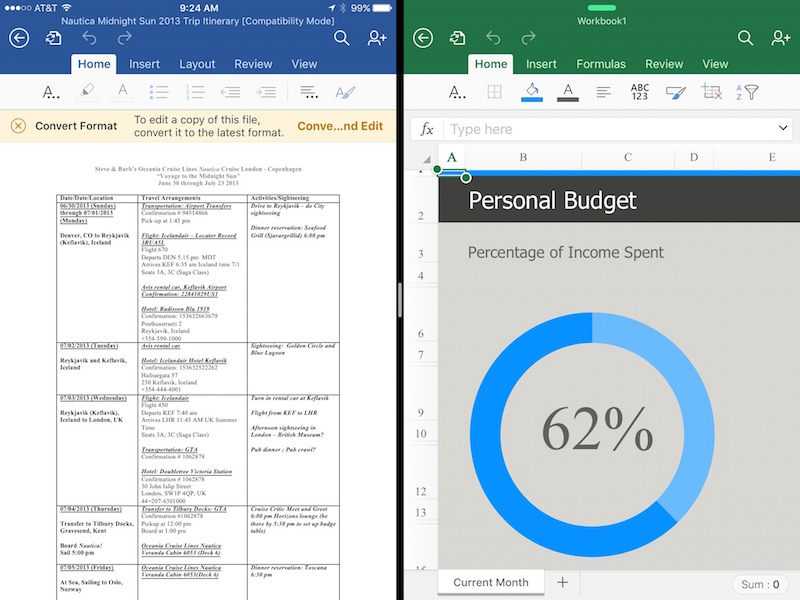 2) Split View on the iPad
This is the one thing that made me believe that in November, I'll be able to sell an iPad Air 2 and a MacBook and use an iPad Pro as a productivity laptop. I've found it to be amazingly useful when using two apps like Safari and Pages side by side. Microsoft Word and Excel for iPad were just updated, which is where the above screenshot came from.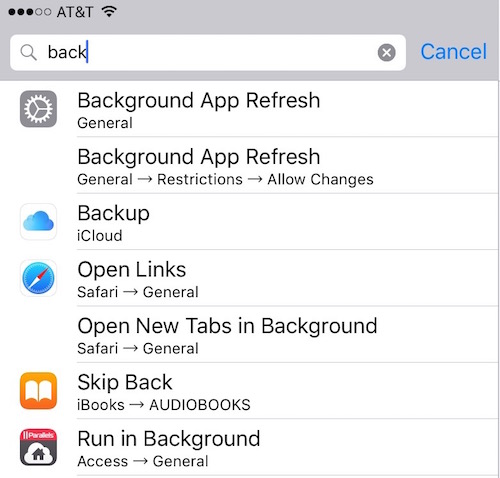 3) Searching for settings
When I teach my iOS class at the local community college, one of the big questions I hear is "how can I find the settings for XYZ?" Yes, there are a lot of settings, and if you don't know your way around, it can take a very long time to find what you need. Now there's a helpful search field at the top of the Settings sidebar. Just type a few letters of whatever you're trying to find, and you'll see a list of possible settings; tap on one to go immediately to what you want to change.
4) The iPad keyboard that becomes a trackpad
This is the other thing that really sold me on the iPad Pro as a MacBook replacement. By placing two fingers on the iOS 9 keyboard on the iPad and waiting until the letters disappear, you've turned the keyboard into a trackpad. Next, you just use your finger to highlight text as you would with a trackpad on your MacBook. 

5) Picture-in-picture on the iPad
What a great way to take notes! Let's say you're watching an Apple keynote and you want to take notes as things are being said. Simply tap on the video in certain apps (including video played in Safari) and you'll see a PIP (picture in picture) button to take your video and squish it down to a small window that you can drag around the screen. 
6) A better, faster app switcher
I love the new app switcher. Just like in previous versions of iOS, you double press the Home button to see what apps are currently running. But now, it's as easy as flipping through a book to find the one you want. Extra bonus — see that "Safari" notification on the bottom of the screen above? Notifications for Handoff between devices show up at the bottom of the app switcher screen. One tap and you see what's on the other device.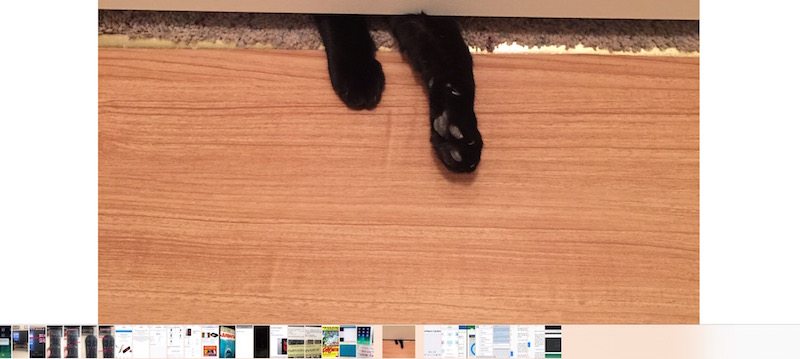 7) Speedy navigation in Photos
Just open any photo in the Photos app, and a new scroller appears at the bottom of the screen. Swiping it left or write scrolls through your Photos in a flash — it's a much faster way to find a specific picture. 
8) A faster way to reach your contacts
Spotlight also provides a new way to search for contacts and then immediately display FaceTime, Messages, and Phone buttons. Tap a button, you'll reach your contact in seconds.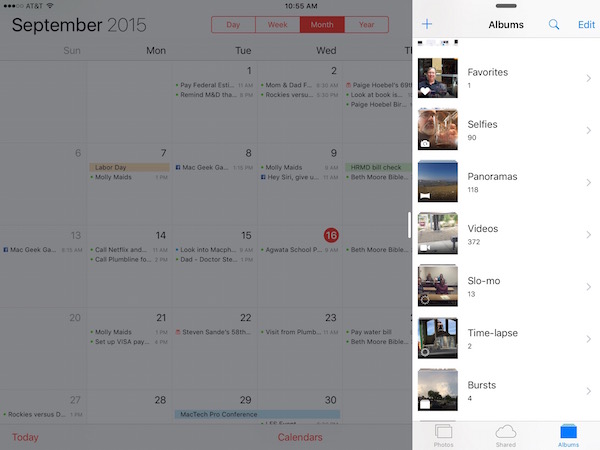 9) Slide-over
Sure, split view is great, but what I found even more useful during my beta testing of iOS 9 was slide-over. In any compatible app, you can slide a small pane over from the right side of the screen to get a quick glimpse of another app. It's handy when you're in Safari and need to find a date on your calendar, in Pages and want to grab a photo to drop in, etc… 
---
There's plenty more where those came from, so stay tuned to Apple World Today all week for even more handy tips and first views.