In less than five days, Apple Watch deliveries are supposed to begin. Now we haven't received any notification that anybody who ordered one in the wee hours of the morning on April 10 has seen an order status other than "Processing Items", but some lucky folks might see their Watches by April 24. MacRumors is reporting that "pre-orders are now being shipped to centralized distribution points across the United States as couriers prepare the shipments to be delivered ahead of the wrist-worn devices's launch on April 24."
Citing a source "that has provided accurate information in the past," the rumor site says that "customers that pre-ordered the Apple Watch early should see their order status change soon." Their source "assures us bulk shipments have begun," and it would be reassuring to those who pre-ordered to see that status change in the very near future.
Update: The first round of Apple Watch pre-orders are now entering the "Preparing for shipment" stage, and credit cards are being charged for the devices.
In other Apple Watch news, even more apps are receiving the Watch treament. The Booking Now app from Booking.com will provide a way for travelers to find hotels nearest to them, get pricing and ratings, book with a tap on the screen, and get turn-by-turn navigation to the lodging. Check in and check out, room number information, and other aspects of booking lodging stays will be possible with the app.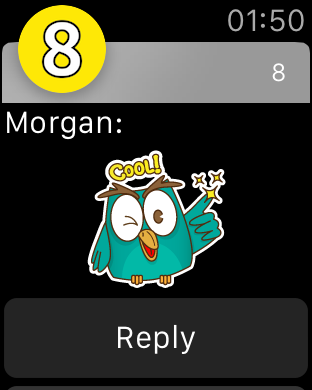 SHAPE, the creator of IM+ Messenger, will deliver a new "Watch-centric messenger" named 8 on April 24. 8 is a sticker-based messenger app designed to make short messages even more fun. If a sticker doesn't provide a full reply, you can also add text.
Yahtzee with Buddies will have a Watch companion app. You can't play the game on the Watch, but it will give you alerts for turns waiting, let you see what your opponent rolled, and show your chats. The same folks are also bringing the infamous Magic 8 Ball to Apple Watch…
CARROT, the obnoxious AI that wants to insult you into becoming a better human being, will have Watch companions as well. CARROT Weather and CARROT Fit have both been updated for Watch compatibility. With CARROT Fit, the Watch serves as a heads-up display for the "7 minutes in hell workout". Ouch.
Finally, Epicurious has added a Watch feature that I know I'll use a lot — a smart cooking timer that works with recipes in the main iPhone app. Check out the video below, and be sure to flip your steak at the correct time.
Apple World Today will have a full roundup of Apple Watch apps later this week, so stay tuned.