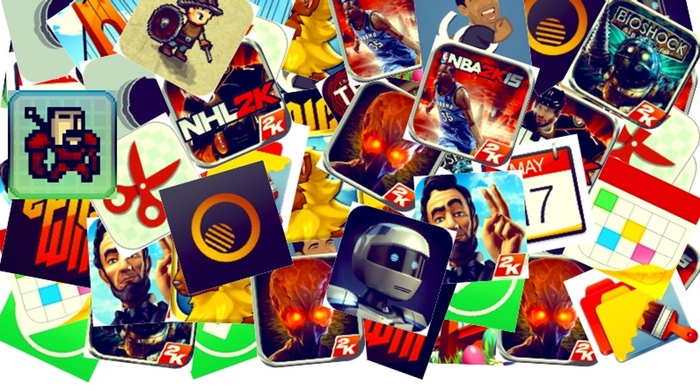 Here are some of the best free apps, app updates and new apps that have landed in the App Store recently. Today's notable apps include a discount on 2K games, the new The Trace: Murder Mystery Game game and an update to Everyday. All app prices are USD and subject to change. Some deals may expire quickly, so grab them while you can.
iOS Apps Now Free
gTasks Pro – Tasks Manager for Google Tasks, GMail, Todo list & Reminders [Now free, down from $4.99] Sync your tasks with Google and across your iPhone & iPad devices. Never liked your tasks app? You'll love this one 🙂
Hunter Island: Monsters & Dragons [Now free, down from $$0.99] Hunter Island is a real monster collection RPG with live multiplayer.
Atom Run [Now free, down from $2.99] You control Elgo, a sophisticated robot prototype with simple, intuitive commands. Your mission is to find all the atoms and molecules that are critical to creating new life. Act fast, because your time is short!
Tangent – Add Geometric Shape, Pattern, Texture, and Frame Overlays and Effects to Your Photos [Now free, down from $1.99] Tangent provides infinite opportunities to transform your photos into amazing works of art that can be shared and enjoyed, no matter what your level of artistry.
Running through the 6 [Now free, down from $0.99] Potato is back & has morphed into a human! Every 6 you run through will earn you an additional 100 points!
Tower of Fortune [Now free, down from $0.99] Tower of Fortune is a retro-style slot machine/RPG.
iOS Apps On Sale
BioShock for iOS [On sale for $2.99, down from $10.99] One of the greatest first person shooters of all time, BioShock comes to iOS!
Civilization Revolution 2 [On sale for $4.99, down from $14.99] Sid Meier's Civilization Revolution 2 challenges players to build a glorious empire that will stand the test of time.
XCOM®: Enemy Within [On sale for $4.99, down from $12.99] XCOM®: Enemy Within is a standalone expansion to the 2012 strategy game of the year XCOM: Enemy Unknown and it's now available on iOS devices!
NHL 2K [On sale for $2.99, down from $7.99] This year, NHL 2K is back and better than ever! Whet your hockey appetite with the brand-new all-star NHL experience on mobile.
NBA 2K15 [On sale for $2.99, down from $7.99] The NBA 2K franchise returns with NBA 2K15, our most true-to-life NBA experience yet on mobile
Fantastical 2 for iPad – Calendar and Reminders [On sale for $6.99, down from $9.99] The award-winning, best-selling calendar app has been redesigned and reimagined for your iPad with iOS 8. With the convenient Fantastical Dashboard, you'll add, view, and interact with your events and reminders with ease.
Fantastical 2 for iPhone – Calendar and Reminders [On sale for $2.99, down from $4.99] The award-winning, best-selling calendar app has been redesigned and reimagined for iOS 8, including new features such as reminders, a new week view, and much more!
EpicWin [On sale for $0.99, down from $2.99] EpicWin is an iPhone app that puts the adventure back into your life.
Discounted Mac Apps
PhotoSweeper Lite: Remove duplicate photos in iPhoto, Aperture and Lightroom [On sale for $2.99, down from $4.99] PhotoSweeper Lite (a lightweight version of PhotoSweeper) helps you to get rid of duplicate photos.
Super PhotoCut [On sale for $9.99, down from $19.99] Super PhotoCut interactive cutout tool isolates and separates a detailed foreground object from photos.
Folder Designer [On sale for Free, down from $1.99] Folder Designer is the coolest and easiest way to customize Folders on your Mac.
New and Notable Apps
Gamebook: Pocket RPG [$2.99] Walk into the Land of Lanthir Lamath ruled by wicked skeletons and fight for your life in a thrilling adventure.
The Trace: Murder Mystery Game [$4.99] The Trace is an immersive murder mystery puzzle adventure game that will pit your wits against a baffling crime that needs solving and a case that needs answers!
Fantastical 2 – Calendar and Reminders [$39.99] Designed exclusively for OS X Yosemite, Fantastical 2 includes powerful features such as an incredibly intuitive parsing engine, a full calendar window (with day, week, month, and year views), a quick access mini window, iCloud reminders support, time zone support, and much, much more.
Updates you don't want to miss
Bridge Constructor [$1.99] In Bridge Constructor you have to prove yourself as an accomplished master bridge builder. Version 3.3 brings the following changes:
The Easter bunny is coming to Camatuga! Download the newest Bridge Constructor update to unlock the Easter Islands completely for free. Colorful new levels and brain teasing new bridges await you. Will the Easter bunny make it across your constructions so he can hide presents and candy for the residents of Camatuga? Only available for a limited time!
Everyday [$1.99] Take a picture of yourself every day. Version 2.0 brings the following changes:
Unlimited Timelines: Wanna do more than one project? Everyday your baby, a plant, your gross wound. Everyday everything. We offer unlimited timelines as an in-app purchase for $2.
Brand new interface: Daaaaamn this app is looking fresh and totally not dumb.
Dropbox backup: Throw your phone in the toilet, it doesn't matter. All your sweet photos are safely backed up in that cloud the kids talk about.
Location based reminders: Be reminded whenever you're in a set location, like your sad apartment.
Random time: Set a time range to be reminded randomly within daily.
Location: See where you took each of your photos.
Full-resolution images: That's your big boy.
Front-facing photos now correctly flip after being shot. When you migrate your photos over we will flip your photos so they all match.
After you install we will briefly need a few moments to migrate your photos over. Hope that's chill.
I love you a lot. Thanks for waiting.