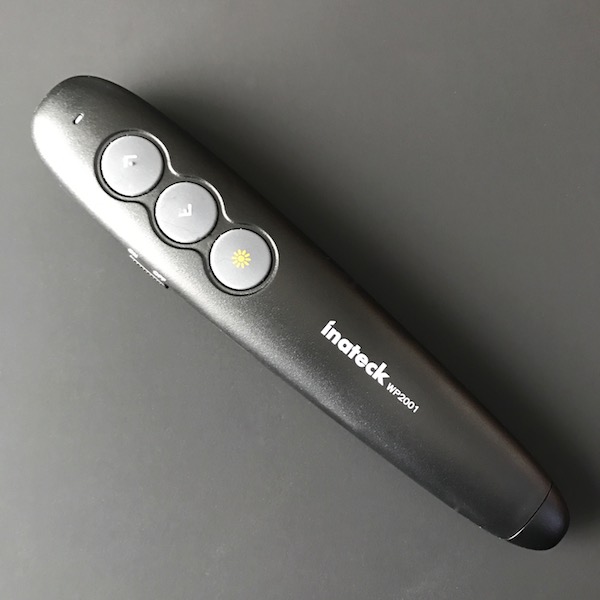 Anyone who gives presentations in either Keynote or PowerPoint knows just how useful a wireless presenter — a Bluetooth tool used to change slides and move through bullets in a presentation — can be. Today we're looking at the Inateck Wireless Presenter WP2001 (US$14.95), a device that is sadly both outdated in function and design, but has a low price tag as its only saving grace.
Design
I do a lot of presentations and classes, so I've tried a lot of wireless presenters. The WP2001 is made of black plastic and features the standard forward/back/laser buttons on top. The buttons are made of a soft silicone material and feel good, and the device itself is large enough to not be easily lost but small enough to fit comfortably in the hand.
On the bottom is a door for a single AAA battery. In this day and age, why a manufacturer chooses a non-reusable battery over a built-in rechargeable is totally beyond my comprehension. I guess it does have the advantage that you don't need to charge the device, but I always find that my presenter devices give me plenty of warning that they need a charge and I do it at night or during breaks in my classes.
There's a small on/off toggle on one side and a blue LED above the buttons that indicates that the device is in use.
Now my biggest complaint; the WP2001 uses a USB dongle that plugs into the bottom of the device when not in use. This is a "feature" that I had in an old Kensington presenter that I purchased back in the early 2000s. Most of the better tools I am using these days, like the Satechi Aluminum Wireless Presenter (review link) are straight Bluetooth devices that just require a one-time pairing and work fine.
Here, you plug the USB dongle into an available port, then wait for the Mac to recognize it. On my late 2015 iMac, it never did get recognized in one port, then took about a minute in a second USB port. The instructions tell you to basically wait for an error message to appear on your Mac screen — it's that common "unidentified keyboard" message — then press continue and ignore the message. Nope, I'd rather not have an error message be my indication that this device is apparently paired to my Mac.
One more comment to end this section: due to this antique dongle design, the WP2001 is useless with any iOS device.
The cherry on top of this dismal milkshake of technology is that the dongle is almost impossible to remove from a USB port unless you happen to have fingernails that you can pull it out with. Just try pulling on the small, hard, slippery plastic with two fingers and you'll end up frustrated.
The company thoughtfully includes a small carry bag with the WP2001. Yay for one design win.
Function
If you're doing a presentation on a Mac, chances are very good that you're using either Keynote or PowerPoint, so I tested the WP2001 with both, starting with Keynote.
Right off the bat, this felt wrong. I kept pushing the button that I've used on every other presentation tool like this to try to move "forward" (the upward pointing arrow), but nothing happened. It was only when I pushed the downward pointing arrow or "back" button that the slides advanced. That was completely counterintuitive to every other Bluetooth presenter I've ever used.
Next, a long press on the "back" button puts the slide show into a black screen function, which can be handy when you're taking a break or discussing content with participants. A long press on the "forward" button allegedly puts the device into a full-screen mode, although just starting a Keynote presentation by pressing "play" places it in full-screen mode.
With PowerPoint, the same "backwards" configuration of the buttons really messed up my muscle memory. The black screen function once again worked, while the full-screen mode did one of two things — got out of Slideshow View or triggered events in TextExpander.
Conclusion
Sure, the WP2001 is inexpensive, but I'd highly recommend that you look at other wireless presenters (like the aforementioned Satechi model) before considering this device. The dongle-centric design looks like it was heisted from the early 2000s to work with Windows 2000 machines, and the counter-intuitive buttons make it a total failure in my mind. I'd use my iPhone with the Keynote Remote app before I'd consider using this product; it's much more functional and if you already own an iPhone, it's free.
I'm disappointed in Inateck releasing this product. They're usually quite good at marketing well-designed products at a decent price. This is a definite exception.
Apple World Today Rating (out of 5 stars): ★