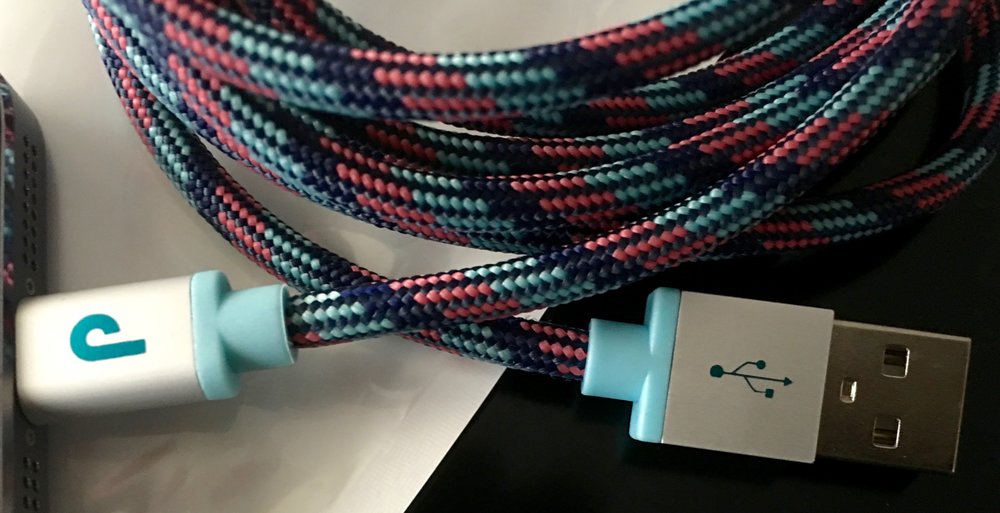 Sick of wimpy Lightning cables that end up breaking or fraying after a few months of use? Paracable's Lightning cables (US$23.95) are designed to put up with a lot of use and abuse, and although they may cost a bit more than your average discount cables, they'll probably be working well after Lightning is no longer Apple's connector of choice. Let's take a look!
Design
As the name implies, each Paracable is wrapped with paracord, What's paracord? Per Wikipedia: "Parachute cord (also paracord or 550 cord when referring to type-III paracord) is a lightweight nylon kernmantle rope originally used in the suspension lines of parachutes. This cord is useful for many other tasks and is now used as a general purpose utility cord by both military personnel and civilians. This versatile cord was even used by astronauts during the 82nd Space Shuttle mission to repair the Hubble Space Telescope."
Of course, you won't want to use your Paracable as a parachute suspension line, but the braided cord exterior means that these cables have plenty of strength and durability. Add to that a solid flexible polymer jacket, a copper mesh, EMF shielding, and then 21 AWG power and 28 AWG data cabling, and you have one heck of a cable. The ends are built to last as well, using a proprietary connector design.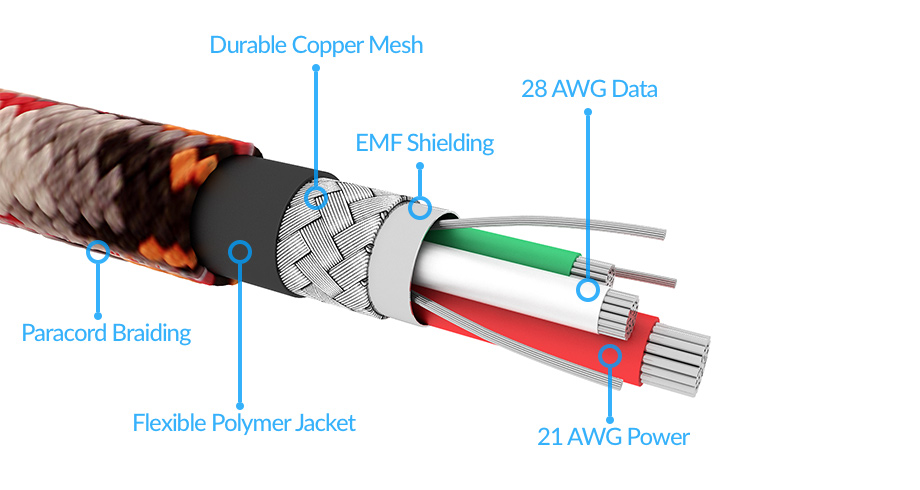 The best thing about the Paracable? The patterns that are woven into the paracord. All of the cables are pretty much identical in construction with the exception of that paracord braiding and the color of the plastic used for stress relief at both ends of the cable. There are five different patterns — Gecko, Matrix, Glacier, "1.21 Giggawatts", and Continuum. If those names intrigue you, I invite you to take a look at the designs on the Paracable website.
Function
What can I say? It's a charging cable. But this is one with a bit of a difference, since the Paracable is built to take a bit more power than the standard cables, which should allow it to charge devices more quickly. Paracable shows that the cables can handle up to 2 Amps of current at the standard 5V charging voltage.
Each of the cables is 1.5 meters (5 feet) long, perfect for those situations where you might need a somewhat longer cable to be able to reach an outlet. I stuffed two of these cables into a bag during a recent weekend trip and loved the fact that they are really hard to get to tangle. They're shipped in individual Zip-Loc type bags, and I kept those for storage.
My only complaint is that the more robust design of the Lightning end piece means it won't work with some iPhone or iPad cases that use a small port cutout, but that's more a problem with the case design than a failing of the Paracable.
Conclusion
You'll be paying a premium price for the Paracable Lightning cables, but they're going to last. Get a couple of these for your favorite devices and you'll have them for years to come. Don't like it after you get it? They've got a 30-day money back guarantee, something you rarely find in the accessories world.
Apple World Today Rating (out of 5 stars): ★★★★★