On a regular basis, Apple World Today posts a list of notable new apps or app updates that have been released. They may not necessarily be new, but they're popular and deserve mention. Here are today's picks.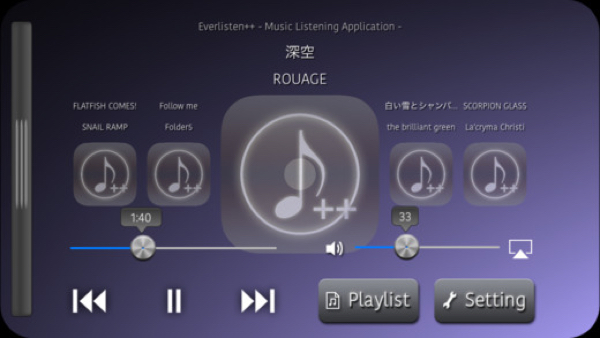 iOS Apps/Updates
Tomoyoshi Matsui has introduced Everlisten++ 1.0. It's a free music listening app that allows you to listen to the main portion of a song track, one after another. This app plays a song from the start position and plays it for a set playback duration. What's more, you can control the playback speed and its pitch.
Mac OS X Apps/Updates
Eternal Storms Software says ScreenFloat has been upgraded to version 1.5.13 and is ready for macOS Sierra, which is due for release next week. You can use ScreenFloat to keep information always visible, no matter which application you're in.
ScreenFloat is available for purchase on the Mac App Store for $8.99. Version v1.5.13 is a free update for existing customers of the app. A 15-day trial can be downloaded for free from the product website (http://tinyurl.com/qxmax3c). ScreenFloat runs on Mac OS X 10.7.3 or newer.
Smile has upgraded PDFpen, its all-purpose PDF editing tool for the Mac, to version 8.1. This version aids the positioning of images, text, and other objects by adding visible guidelines and position snap.
PDFpen and PDFpenPro 8.1 add "snap to guides" that allows images, shapes, and other objects to snap into alignment with the center and edges of existing objects. Guides are visible when dragging. Special consideration is given to text boxes, which can now snap to the same baseline as existing text.
PDFpenPro and PDFpen 8 work with PDFpen for iPad and iPhone version 2, allowing editing across devices when used with Dropbox storage or iCloud Drive. iCloud storage is available when PDFpen is purchased via the Mac App Store.
PDFpen retails for $74.95, PDFpenPro for $124.95. Family pack licenses, which cover up to five computers in one household, are $94.95 for PDFpen and $149.95 for PDFpenPro. Office pack licenses start at $224.95 for PDFpen (for five users) and $349.95 for PDFpenPro (five users).
Upgrades from earlier single user versions of either application are $30, and free to users who purchased on or after Jan. 1, 2016. Upgrades from previous versions of PDFpen to PDFpenPro 8 are $50. PDFpen 8 and PDFpenPro 8 run on macOS 10.12 (Sierra) and require macOS 10.10 or later.
Wide Angle Software has rolled out TouchCopy 16 for Mac OS X. The tool will backup all iPod, iPhone and iPad content to your Mac, ensuring all iOS content stays safe including music, playlists, videos, photos, messages, contacts, calendars, iBooks and more.
Compatible with iOS 10 and the iPhone 7, version 16 features enhancements and product improvements, as well as a new, modern look.
A demo of TouchCopy 16 is available and works with all iPhones, iPods, and iPads. A 12-month software license retails for $29.95, while a lifetime license for two computers is $39.95.