Owners of the new MacBook Pros need a way to protect the (very) expensive laptops. WaterField Designs has, yet again, delivered a solution in its US$159 Syde Case.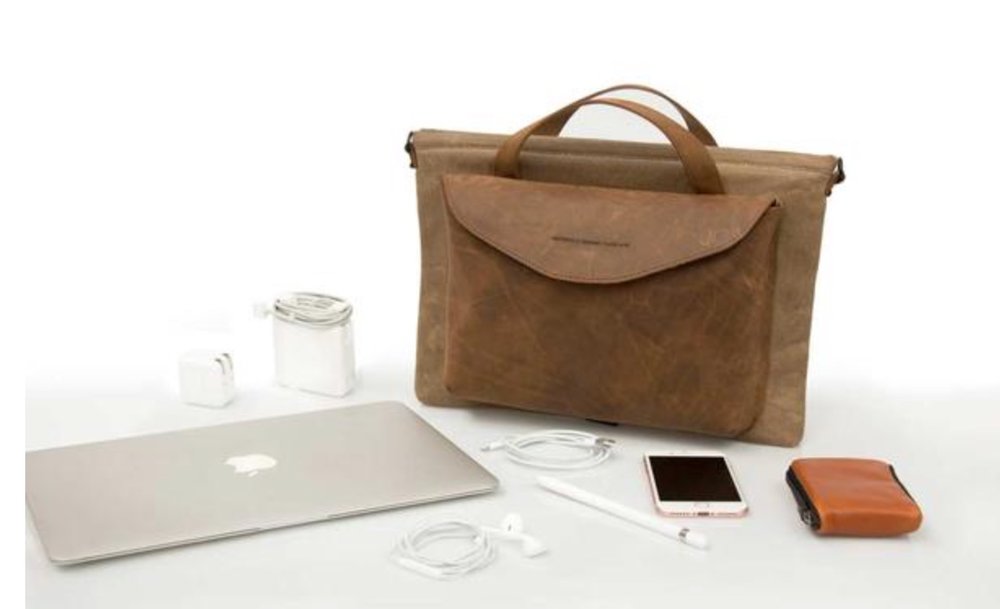 Combining the protection of a sleeve with the functionality of a minimalist bag, it can hold —and protect — much more than a laptop, though it does that extremely well. My 15-inch MacBook Pro with Touch Bar fit just perfectly — it was snug enough for protection, but still easily inserted and removed. The laptop sleeve — which comes in ballistic nylon or waxed canvas (I prefer the latter) — packs a full-grain leather, soft-lined compartment for laptop accessories and other goodies.
If you need to insert and remove your MacBook Pro during business meetings, the Syde compartment has a silent magnetic closure that works, well, silently. When it comes to transporting, you can carry the Syde over your shoulder thanks to its attachable/removable shoulder strap or carry it by its handle.
The laptop compartment forms the basis of the Syde Case. The front sports a soft-lined, full-grain leather compartment with internal organizational pockets: pen slots (including one sized for the Apple Pencil, though I'm not sure how practical that is, unless you're also lugging an iPad Pro with you) and a padded, dedicated compartment for an iPhone. There's plenty of room in the compartment for a MacBook power brick, a wallet and keys, or for a small WaterField Gear Pouch to organize items separately.
As with all of WaterField's products, the Syde oozes elegance. The leather looks great and is rugged and durable. If you've sprung for a MacBook Pro, this is a good investment. Especially since (as far as I know) no snap-on case, screen, or keyboard protectors for Apple's latest laptop are yet available. (though they're coming next month from companies such as Moshi).
The Syde is available for the 15-inch MacBook Pro with Touch Bar, 13-inch MacBook Pro with Touch Bar, 13-inch MacBook, and MacBook 12-inch.
Color options and materials are: 1) black ballistic nylon with full-grain leather pouch in black or grizzly leather, or 2) tan waxed canvas with full-grain leather pouch in grizzly.