Ever need to transfer files between your Mac and an iPhone or iPad, or have movies that you'd like to watch but don't want to store on your iOS device? The Leef iBridge may be just the answer for your data transfer needs.
Available in 16GB ($59.99), 32GB ($79.99), 64GB ($119.99), and 128GB ($199.99) versions, the iBridge is a tiny black device that holds flash RAM, a MFi-certified Lightning adapter, and a USB adapter in a unique J-shaped casing. A small plastic cover is included to keep the adapters protected in transit. If that 128GB iBridge doesn't seem to be impressive enough for you, wait a little while — the company has a 256GB version ($399.99) on the way.
The design of the Leef iBridge is impressive. Through the use of the J-shape and a rather skinny Lightning connector section, it's possible to use the iBridge without removing many cases. That's not the situation with some of the competing devices. It weighs just 10 grams (0.35 ounces), and has external dimensions of 63 x 19 x 18mm (2.48 x .75 x .71 inches).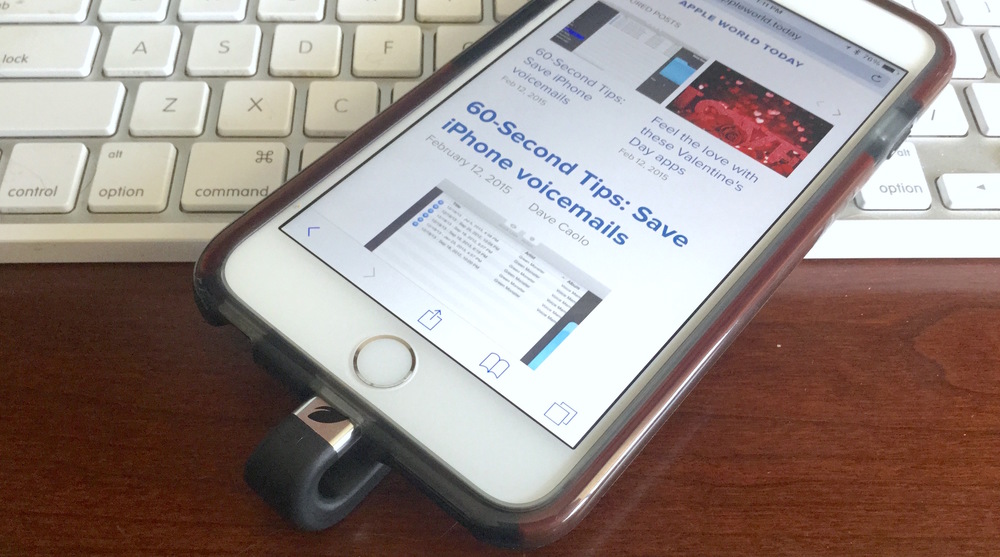 Like the similar SanDisk iXpand Sync, the iBridge comes with its own free app that manages what's stored on the device and transfers files between the flash RAM and your iPhone or iPad. Initially, I used the app's iBridge Camera button to back up 2,277 images that were stored on my iPhone 6 Plus. While the backup isn't exactly fast, the app is smart enough to know what photos have already been moved to the iBridge so it will not back them up again in the future.
After you've backed up your photos, the iBridge can be used to store any photos or videos you're taking — even when your iPhone or iPad is out of storage space. Here's a fun little video from Leefco demonstrating that feature:
The app has two other primary functions: transferring files to and from the iBridge and providing a way to view content that's stored on the iBridge. The Transfer Files button provides a way to move your photos to and from the Photos app to the iBridge, as well as a file manager for viewing what exactly is available on both the iOS device and the iBridge. Unlike some of the competing flash storage devices on the market, the iBridge's app is actually in tune with the flat design of iOS 8.
The Content Viewer button provides a way to look at a number of different file formats.
Video – .mp4, .m4v, .mpv, .mov, .mpg, .mkv, .wmv, .flv, .3gp, .gif, .avi
Audio – .wav, .aac, .aif, .aiff, .caf, .m4a, .mp3
Images – .jpg, .tiff, .gif
Documents – .doc and .docx (Microsoft Word); .htm and .html (web pages); .key (Keynote); .numbers (Numbers); .pages (Pages); .pdf (Preview and Adobe Acrobat); .ppt and .pptx (Microsoft PowerPoint); .txt (text); .rtf (rich text format); .vcf (contact information); .xls and .xlsx (Microsoft Excel); .zip; .ics
One odd omission from the image file formats is the widely used .png format.
Drones are THE thing right now. Everybody uses 'em to check out the neighbor's back yard, take videos of Apple campuses under construction, fly over the brink at Niagara Falls, and all sorts of other fun/nefarious/creepy/useful things. We want to start you off on your career as a drone pilot with your very own Parrot AR.Drone 2.0!
This little guy isn't the latest and greatest model, but it still packs a ton of features. 720p HD camera? Check. A.R. FreeFlight iOS app for control? Check. Both inside and outside hulls for safe flying? Check. 1000mAh battery? Check.
The one we're giving away is a Classic edition model worth US$299.99. What do you have to do to enter? Just fill out the form you see below, and we'll add you to our subscriber list as well as enter you in the giveaway (you may get a very infrequent email from us). Good luck!
Hey, AOL fans! The company is dropping support for AOL Sign-in for iTunes and the App Store, so anyone using an AOL username to sign into the iTunes Store, App Store or iBook Store will be out of luck starting March 31.
This is another questionable move by the same folks who shut down their marquee website about the world's most successful consumer electronics company.
Apple says they'll no longer provide support for AOL usernames that aren't converted to an Apple ID after March 31, 2015. The transition process to an Apple ID can be started by logging into iTunes with an AOL username, at which time users can follow on-screen directions provided by Apple.