Apple has unveiled new resources designed to bring coding education through the Everyone Can Code program to more students around the world. Starting today, customers can register for thousands of free Hour of Code sessions, available at all Apple Store locations around the world from Dec. 1-14.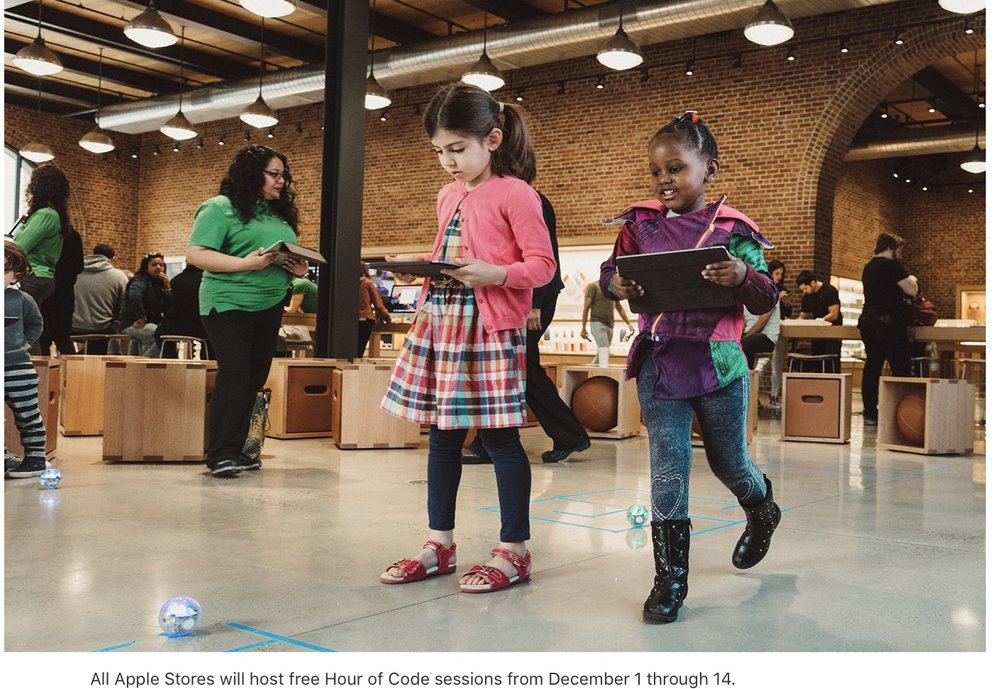 Everyone Can Code is a program designed by Apple to help everyone learn how to code using a Swift curriculum. (Swift is Apple's programming language.) The program includes a range of free resources, from helping students explore basic coding concepts to building fully functional apps.
With teacher guides and lessons, students learn the basics on an iPad with Swift Playgrounds. Playgrounds is a free app that lets users use real code to solve puzzles and control characters with just a tap, to App Development with Swift to help aspiring app developers build their first iOS apps.
Apple has also introduced Swift Coding Club materials to help teach coding outside of the classroom with Swift. To help prepare and develop students for the workforce, the company unveiled new Advanced Placement curriculum and App Development with Swift certification.
The Hour of Code daily coding sessions will provide opportunities for people at a variety of skill levels to learn coding. Kids Hour sessions will help aspiring coders ages six to 12 explore coding with robots, while those ages 12 and above can attend sessions using Swift Playgrounds and iPad to learn coding concepts.
<!— code from sekindo - Appleworld.today In-Article - outstream —>

<!— code from sekindo —>
To celebrate Computer Science Education Week, Apple created a new Hour of Code Facilitator Guide to help educators host sessions in their classroom using Swift Playgrounds and other iPad apps. Swift Playgrounds is available as a free download in the App Store in 15 languages, including English, German, French, Spanish, Italian, Chinese and Japanese.
To teach coding outside of the classroom, a new Swift Coding Club kit gives teachers, students and club mentors the tools they need to start their own coding clubs. The new kit gives students aged 8 and up the ability to collaborate, prototype apps and explore how coding can make a difference in their communities using fun activities from Swift Playgrounds and App Development with Swift.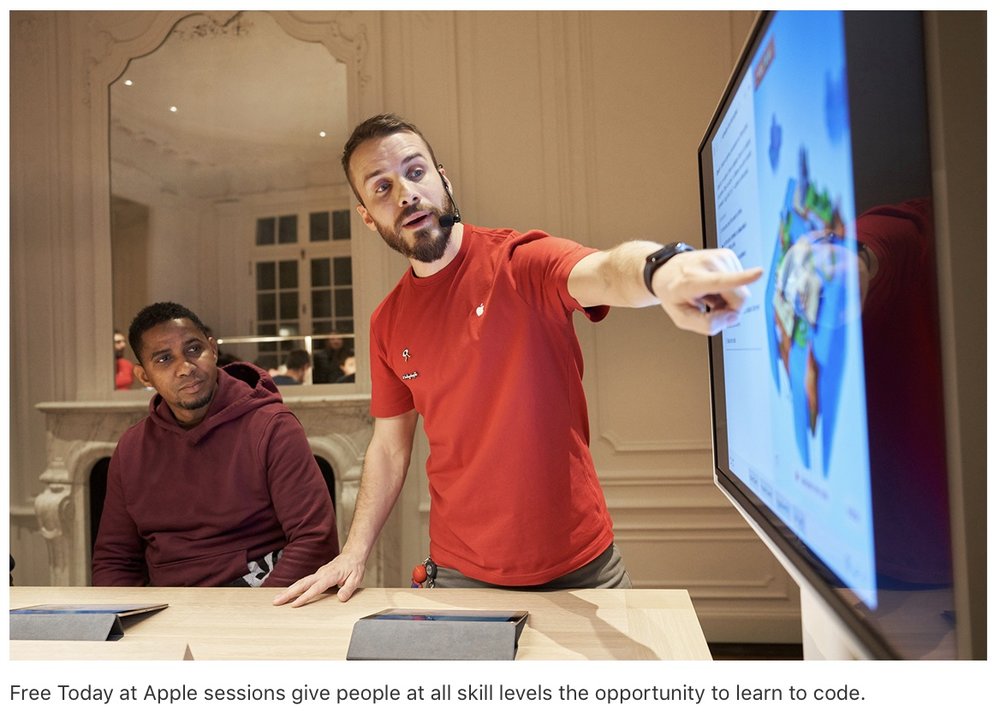 The App Development with Swift curriculum gives high school and college students the skills they need to qualify for high-demand and high-skill jobs, according to Apple. In the next school year, the company says it will release a free AP Computer Science Principles course syllabus and curriculum, giving high school students the opportunity to earn Advanced Placement (AP) credit for learning App Development with Swift.
Students can also earn a certification that recognizes their knowledge of Swift, app developer tools and core components of apps. The App Development with Swift Level 1 certification exams are offered through Certiport Authorized Testing Centers worldwide.
Apple's Everyone Can Code joins Everyone Can Create as one-of-a-kind programs for teachers that help engage students in learning while building new skills in fun and meaningful ways. Designed to help unleash kids' creativity, Everyone Can Create teaches students to develop and communicate ideas through drawing, music, video and photos on iPad.