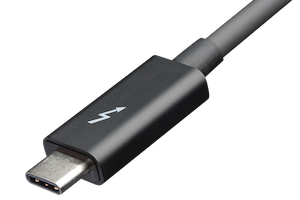 When the 12-inch MacBook with its single USB-C port was announced, a lot of pundits wondered what the future of multiple port MacBooks would be like. Today at Computex 2015, Intel announced the latest version of Thunderbolt — Thunderbolt 3 — which uses the same USB Type-C connector found on the MacBook.
Supporting data rates of up to 40 Gbps, the new standard will support the reversible USB-C connector, USB 3.1, DisplayPort 1.2 and PCI Express 3.0. The USB-C connector is smaller than the existing Mini DisplayPort connector that's used for Thunderbolt and Thunderbolt 2, which should allow future MacBook Pros to be thinner and lighter than they currently are. Thunderbolt 3 can also supply 100W of power for charging devices in accordance with the USB Power Delivery specification, or up to 15W without USB Power Delivery.
Best of all, Thunderbolt 3 can support twin 4K 60Hz displays and features 10GbE networking built-in. Intel's news release stated that:
Products with Thunderbolt 3 will ship by the end of the year and should be more prevalent in 2016.