Chronos' Business Card Shop for macOS (10.11 or later) makes it easy to design business cards. And the latest version (8) adds enhanced color capabilities.
However, it was the completely redesigned interface plus maps integration integration in version 7 that really won me over. It made it easier for users to show their customers exactly where their place of business is located.
The interface redesign also saw the Smart Inspector replaced with dedicated inspectors in sidebar for convenient, one-window use. Also, the interface was streamlined to bring focus to the design canvas and maximize its area.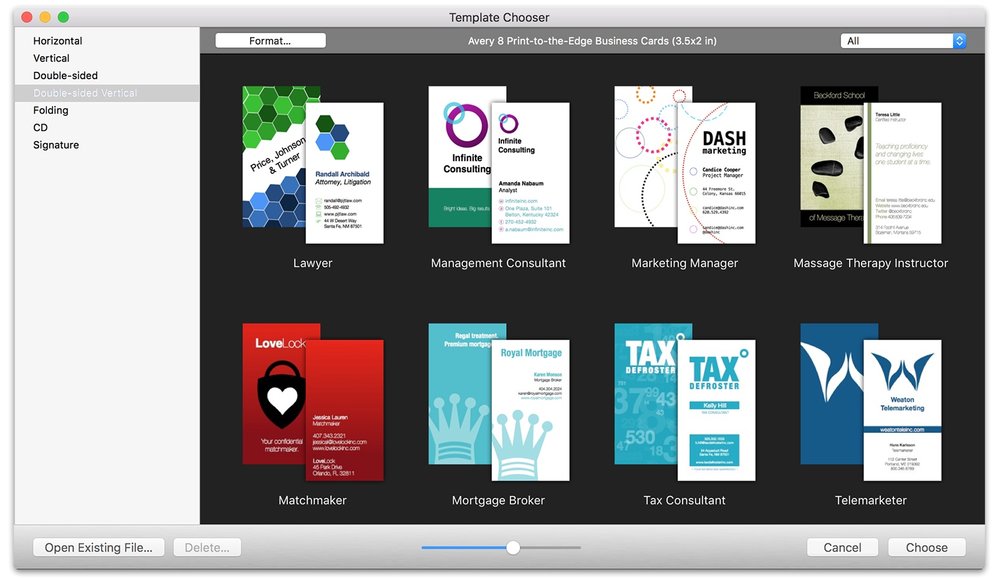 Business Card Shop boasts standalone inspectors for users with large screens. A photo browser supports Apple's Photos application, face searching, favorite searching, and place searching. An Auto Enhance feature offers one-click corrections to photos.
Business Card Shop sports a variety of paper texture overlays for photos, a glass texture overlays for photos, "old film look" overlays for photos (8 overlays in 3 categories: dust & scratches, dust, crackle), photo filters, a vibrance photo effect, a line art photo effect, and draggable special effects.
Business Card Shop supports 700-plus card stocks, including those from Avery, PaperDirect, NEATO, and more. It comes with over 210 pre-designed templates for over 210 different professions. It also comes with a collection of artwork from artists all over the world.
The app is easy to use. Choose a template or start from scratch. Customize your card. Print cards on your own inkjet/laser printer. You can also submit your design to an online commercial printer if you want special UV finishes or raised inks.
A fully functional, 30-day trial version can be downloaded from Chronos' website. It costs $39.99 for a single user license and $69.99 for a family pack.
Apple World Today Rating (out of 5 stars): ★★★★★