With more and more Americans stuck at home, video streaming overall has the lock on customer satisfaction among telecom industries, according to the ACSI Telecommunications Report 2019-2020. With a stable ACSI score of 76, video streaming outpaces subscription TV by a yawning gap of 12 points. This year, video streaming service Disney+ sets the bar even higher, debuting in the ACSI with the top score across all five telecom categories.
When it comes to entertainment, Disney is hard to beat and its new streaming service Disney+ proves just that with a first-time ACSI score of 80. This puts the service at the top of video streaming for customer satisfaction, ahead of former leader Netflix—the company that jump started the industry. Six months after its November 2019 launch, Disney+ had 54.5 million subscribers worldwide.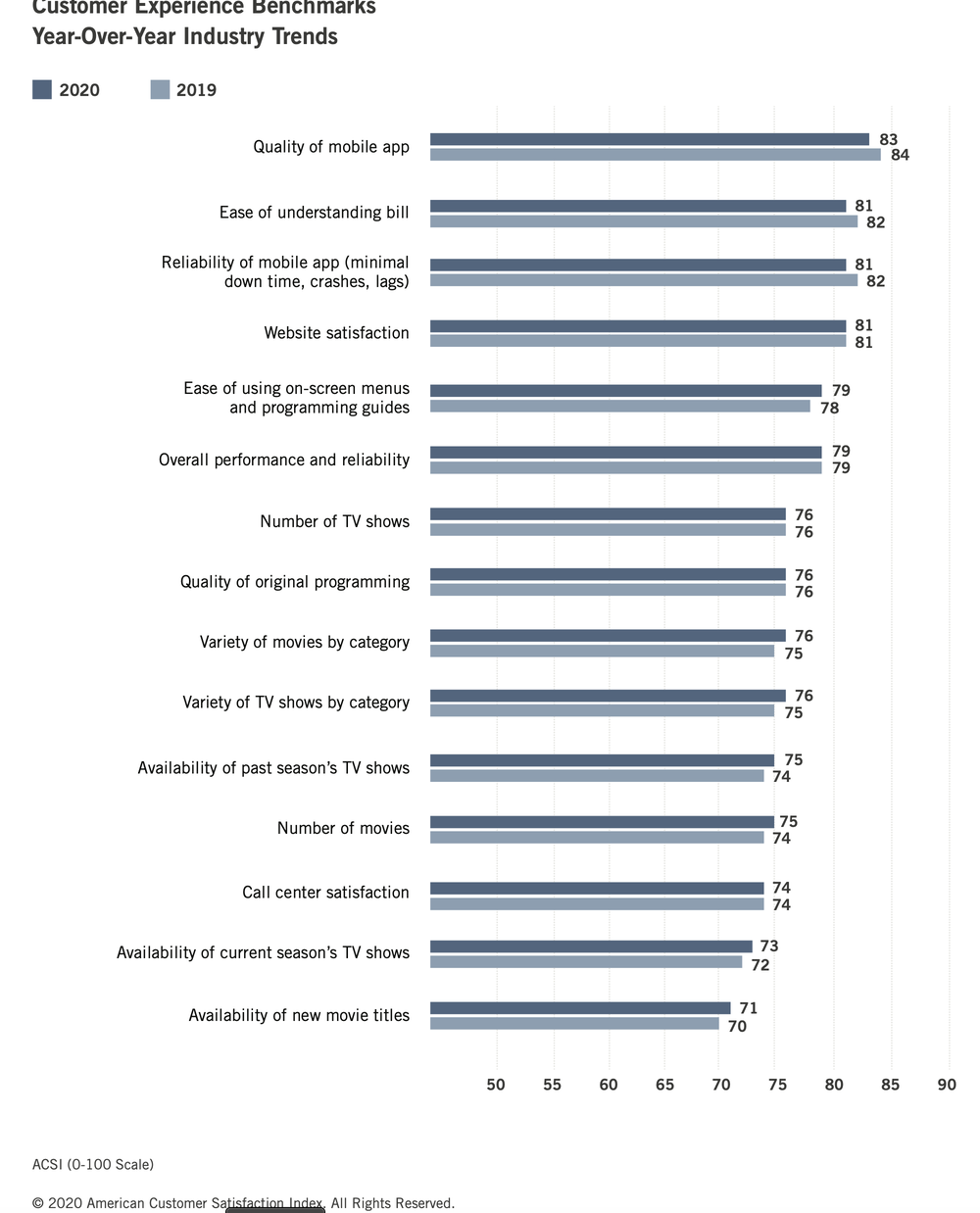 The service has broad appeal to families with content spanning Walt Disney Studios, Pixar, Marvel, National Geographic, and the Star Wars universe—including the breakout series "The Mandalorian." According to viewers, Disney+ is a standout across much of the customer experience and its original content rates best in class.
As Netflix hands the customer satisfaction crown over to Disney+, its ACSI score slips 1% to 78—still good enough to hold second place. Netflix remains the largest streaming service by far, with about 183 million subscribers worldwide. Amid the COVID-19 crisis, Netflix added nearly 16 million subscribers worldwide in the first quarter of 2020.
Customer satisfaction for Netflix, however, is not showing gains. The company reported slower-than-expected U.S. subscriber growth in the fourth quarter as lower-priced competitors like Disney+ entered the market. Earlier in 2019, Netflix implemented its biggest price hike ever. Netflix is also losing rights to some content such as "Friends" as companies like WarnerMedia launch their own services. According to customers, Netflix lags leader Disney+ substantially with regard to value.
Hulu, now controlled by Disney, closes in on Netflix this year, up 1% to 77. Likewise, the Apple TV app is up 1% to 77. Hulu offers a variety of recent and older TV shows—reportedly over 85,000 episodes, including its originals. Viewers appreciate the number of TV shows that Hulu offers, and it surpasses nearly every streaming service on this measure.
Moving on to other areas, according to ACSI results, many telecom companies are stepping up their game, bringing better service to their customers compared to a year ago. Among the five telecom categories, three have significantly improved customer satisfaction: subscription TV service, ISPs, and video-on-demand service. Within these three industries, 65% of the measured companies show ACSI gains. Among the gainers, Comcast's Xfinity is the most improved telecom company this year.
With the exception of video streaming and the early days of fixed-line phone service, telecom industries have been historically the bottom feeders of the Index. In particular, many companies populating the ISP and subscription TV industries have had the dubious honor of being among the lowest scoring of 400+ firms in the ACSI.
While the full impact of the COVID-19 crisis is yet unknown, both ISPs and subscription TV now receive their first customer satisfaction boost in four years. Nevertheless, they continue to rank at the bottom among 46 industries, along with video-on-demand and fixed-line telephone. Only video streaming maintains a level of customer satisfaction that exceeds the average for all ACSI industries (75.4 as of the first quarter of 2020). Video streaming is also home to the service that posts the highest customer satisfaction across all five categories: ACSI newcomer Disney+.
Meanwhile, cord-cutting continues to be a major challenge for traditional subscription TV companies. In fact, a growing number of consumers report never having paid for a subscription TV service at all. But this cord-never group, which tends toward a younger demographic, may be losing out when it comes to satisfaction. ACSI data show that viewers with a mix of services—either cord-stackers (those having both pay TV and video streaming services without reducing their TV spending) or cord- shavers (those adding streaming but opting for less expensive TV service)—are the most satisfied (76). This compares to ACSI scores of 73 for the cord-never group and 74 for the cord-cutter group (those who eliminated pay TV completely in favor of streaming).
Customer satisfaction with subscription television service rises 3.2% to an ACSI score of 64. According to ACSI data, pay TV customers overall are happier with the value offered by their service provider compared to a year ago. Despite the improvement, subscription TV remains at the very bottom among 46 ACSI industries.
In 2019, cord-cutting accelerated, with major cable and satellite TV operators collectively losing about 5.8 million subscribers. Many of these viewers are jumping over to more satisfying over-the- top (OTT) video streaming services, including established players like Netflix and Hulu, and newer services such as Disney+. Customer satisfaction with video streaming remains at the much higher level of 76—a score that pay TV has never come close to attaining.
Amid this highly competitive environment, the satisfaction improvement for subscription TV is widespread with 9 of 11 major companies showing ACSI gains year over year. The most staggering improvement, however, goes to Comcast's Xfinity—up 11% for its subscription TV service. Moreover, Xfinity's customer satisfaction is better this year in the other telecom categories as well.
As in past years, two fiber providers top the rankings. Fios by Verizon Communications gains 3% to 70 and ties with AT&T's U-verse TV (+1%). Since 2015, Fios and U-verse have held the top two positions in the industry, and this year the gap to the next competitor opens up to 5 points.
According to customers, Fios is a leader across many customer experience benchmarks, and its picture quality (HD and standard) rates best in class. Meanwhile, AT&T is shifting its focus to the recently launched AT&T TV, its new internet-based pay TV service. The company is no longer accepting new online subscribers for U-verse TV and has been merging U-verse's social media into channels for its other services.
The ACSI Telecommunications Report 2019-2020 on fixed-line telephone service, internet service providers, subscription television service, video-on-demand service, and video streaming service is based on interviews with 46,504 customers, chosen at random and contacted via email between April 15, 2019, and March 20, 2020.
Customers are asked to evaluate their recent experiences with the largest telecommunications service providers in terms of market share, plus an aggregate category consisting of "all other"—and thus smaller—companies in those industries.