Apple does well (as usual) in the American Customer Satisfaction Index's 2019 Appliance and Electronics Report. Among personal computer (PC) makers, the tech giant remains in the lead, unchanged at an ACSI score of 83 (out of 100).
Following a year of stability, customer satisfaction with personal computers—including desktops, laptops, and tablets—ticks upward 1.3% to 78 on the American Customer Satisfaction Index's (ACSI) scale of 0 to 100. Global demand for personal computers is seeing some modest resurgence as of the second quarter of the year, although U.S. sales remain mostly flat.
While U.S. and China trade disputes have yet to negatively impact demand, the future imposition of tariffs could drive up prices and make the current ACSI gain short lived. ACSI data show that higher perceptions of value are driving this year's improvement in customer satisfaction at the industry level for personal computers.
Despite the ACSI gain, personal computers overall still lag most smartphone brands when it comes to customer satisfaction. But going lighter and more mobile may not please every user. In fact, desktop computers have long enjoyed higher levels of customer satisfaction than both laptops and tablets.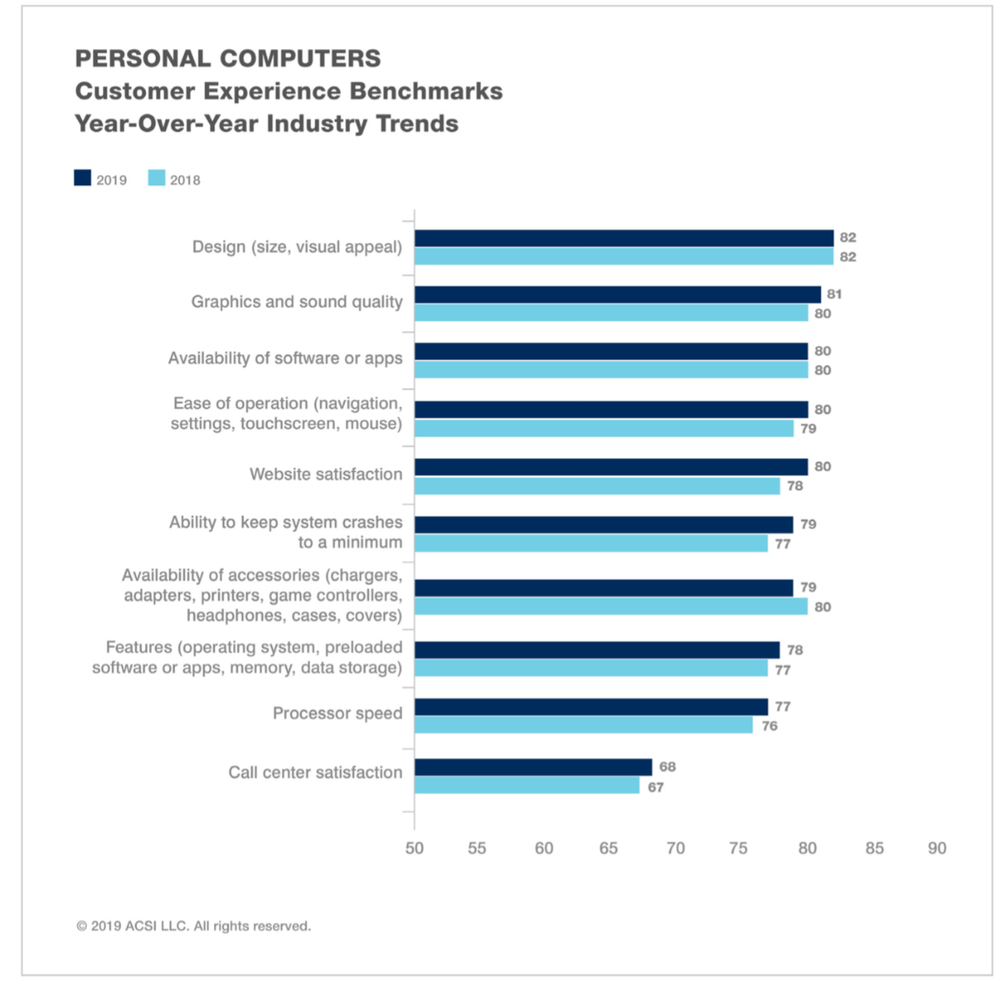 Although just 19% of survey respondents are desktop users, their satisfaction level is 81 in 2019 compared to 77 for both laptops and tablets. For desktops and tablets, satisfaction overall fades compared with five-year high points in 2018. Laptops, with a younger demographic than desktops, recover from a drop one year ago.
Within the three categories, however, there's wide variance in the scores of individual manufacturers. In the desktop segment, Samsung is the industry leader, followed closely by Apple in second place. Much lower, Dell's desktops share the bottom of the rankings along with Acer and ASUS. For laptops, Apple devices receive the top marks, while Lenovo ranks last among the major companies. Likewise, Apple wins the tablet segment, well ahead of second-place Samsung. Amazon tablets take a distant third place—tied with or ahead of the remaining manufacturers.
In the overall industry rankings, Apple stays on top for a second year with a stable and high ACSI score of 83, and its customers have by far the highest expectations. Despite a 1% downturn, Samsung keeps second place at 81 and no longer ties with Amazon, which falls much further. Amazon tumbles 4% to 79, just a point above the industry average. Among the three leaders, Apple demonstrates an advantage across all aspects of the customer experience, but it still lags both Samsung and Amazon for value.
The remainder of the field scores at or below the industry average. HP is unchanged at 78, followed by a trio of companies that all improve to meet with scores of 77. Acer gains 3%, while Dell climbs 5% as users find its machines to be more reliable. Toshiba, however, improves even more, leaping 8% after coming in last place in 2018. According to customers, Toshiba's devices are faster with fewer crashes compared to a year ago.
Customer satisfaction with software for desktops and laptops ebbs 1.3% to an ACSI score of 78, losing its gain from a year ago. The largest decrease occurs for Microsoft, falling 3% to 77 and dropping out of a tie with the group of smaller software makers. The latter group—which includes Adobe, Norton, Quicken, and TurboTax—also shows some weakening in customer satisfaction, inching back 1% to a combined score of 78.
In the fall of 2018 and into 2019, Microsoft encountered a plethora of issues with its Windows 10 updates—amounting to months of user frustration. While it is not unusual for some bugs to occur with software updates, Microsoft has had a particularly bad streak—from unintentional deletion of users' files to PC freezes during updates and problematic reboots. And users are taking note. ACSI data show that over the past year, customer perceptions of quality have deteriorated significantly for Microsoft.
ASUS moves in the opposite direction, down 3% to 76. Meanwhile, the group of smaller computer makers loses 3% to tie with Lenovo (-4%) at the bottom of the category at 74. Lenovo's desktops, however, score much higher than its laptops.
The ACSI uses data from interviews with roughly 300,000 customers annually as inputs to an econometric model for analyzing customer satisfaction with more than 400 companies in 46 industries and 10 economic sectors, including various services of federal and local government agencies.