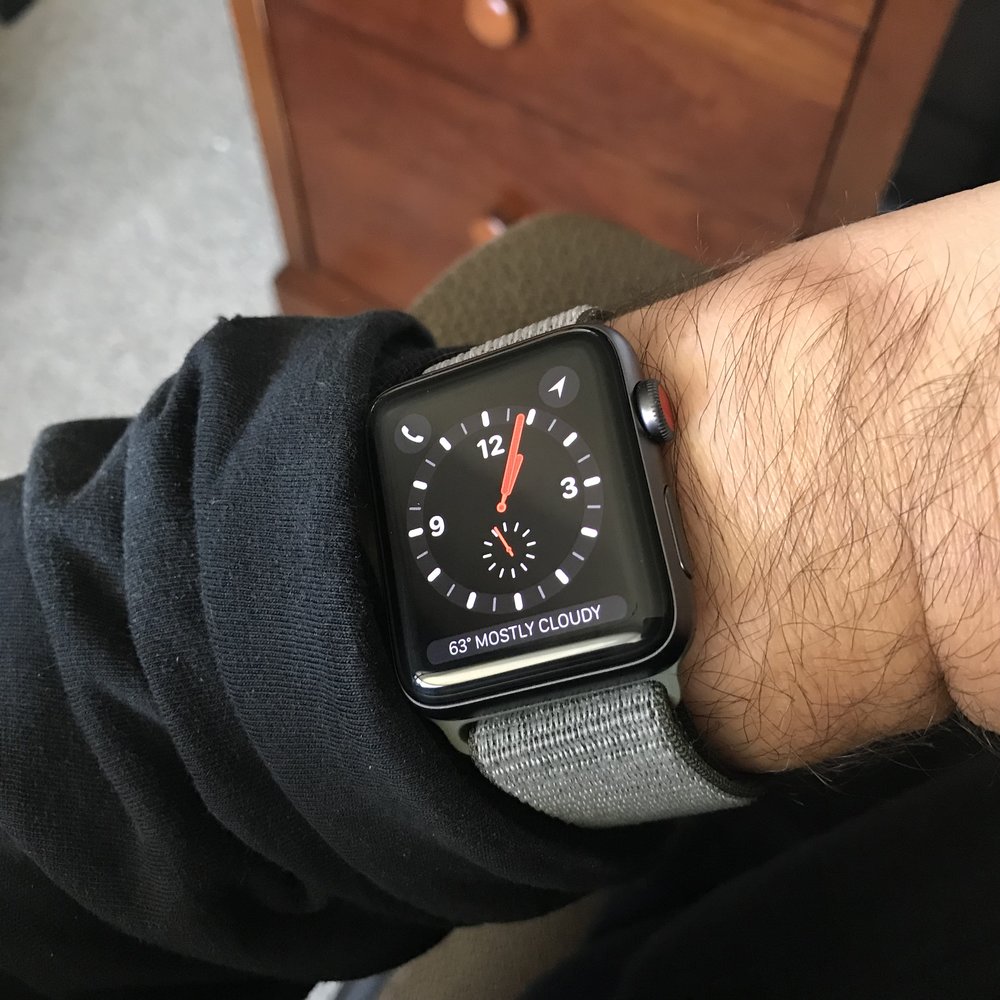 Last Friday, I received a nice self-purchased present for my 60th birthday — an Apple Watch Series 3 with the Dark Olive Sport Loop Band. Prior to the arrival of the Series 3, I hadn't updated my Watch since the original came out in April of 2015. Combined with watchOS 4, the newest Apple smartwatch is an impressively powerful update when compared to the original device. In this post, I'll take you on a detailed tour of the new Apple Watch Series 3 with cellular.
Design
The Series 3 is almost identical to the original Apple Watch, with Apple noting during the September 12 keynote that the thickness of the Series 3 has increased by the thickness of two sheets of paper — about .05mm. The biggest change is the red dot on the end of the Digital Crown that shows that it has LTE cellular capabilities.
Sport Loop Band
The Series 3 can be purchased with a new band called the Sport Loop. It's available in eight different colors, and uses a breathable nylon weave material fastened with a "hook and loop" closure. I think I may have finally found the perfect Watch band, as the Sport Loop is much more comfortable than the original flouroelastomer Sport band and is easier to put on and adjust. The Sport Loop bands are available from Apple for previous Apple Watches for $49, but there will most likely be similar third-party bands for much less.
Thumbs up on the battery life…with one exception
My original Apple Watch required me to take it off each night for charging, as it would not make it through a full 24 hour period with my usage pattern. I'm happy to say that the Series 3 has lasted 48 hours (including two sleep periods) on a single charge. The original charge level was at about 85%, and I even used the LTE cellular connection for one phone call during that 48 hours.
Although I haven't actually tested it, my estimate is that a fully charged Apple Watch Series 3 running off of a Wi-Fi network or iPhone tethering would probably last a full three days. It's that LTE connection that really sucks down the battery. For my purposes, where I only want to be connected to LTE for about 30 – 60 minutes per day and don't expect to be making many phone calls during that time, it should be able to easily last for two days.
If you expect to use the Apple Watch Series 3 as an iPhone replacement and make a lot of calls, I don't think you're going to be very pleased with battery life. Let's hope that Apple or a third party comes out with a Watch band that includes a separate battery pack for extended calling.
The Cellular Connection
The biggest feature of the Apple Watch Series 3 is that built-in LTE connection that enables the Watch to upload and download data or even make voice calls without needing a nearby Wi-Fi network or iPhone.
One complaint I heard from other Series 3 buyers was that they didn't see a signal strength indicator once they were apparently set up with their cellular plan. Fortunately, it turns out that the signal strength dots appear only when the Watch is out of reach of both an iPhone and a Wi-Fi network — in other words, the LTE service is only turned on when you really need it. Once you're away from those other connectivity sources, the antenna icon in the Watch Control Center display turns green and the dots appear on the new "Explorer" Watch face.
Voice calls sound great on the Series 3, not surprising since calls made or received through the original Watch via the tethered iPhone were quite clear. The Series 3 speaker is definitely much better than the one that was in the original Watch, so calls sound loud and clear.
Calls are made by tapping the phone icon on the Explorer Watch face, by launching the Phone app, or by asking Siri to call a contact. For dialing, one can explore Contacts by twirling the Digital Crown, then tap a single contact to see and dial numbers; tap on recent calls to dial someone you've talked to recently; view the list of Favorites created on your iPhone or Mac and dial with a tap; or bring up a keypad to tap in a number. In each case, the calls go through very quickly. There's also a dedicated voicemail button for listening to voice messages.
WatchOS 4
Other than a few different gestures and some new Watch faces, not much has changed on the face of watchOS 4. However, even with the "old" original Apple Watch I noticed that apps were somewhat more responsive and in many cases were pre-loading data behind the scenes.
Perhaps the biggest changes in WatchOS 4 are in the area of activity updates. Apple has found that many people obsess about "completing their rings", that is, closing the blue, green and red activity rings that indicate standing, exercise and movement. WatchOS 4 is much more persistent in trying to get me off of my butt; every evening since I've had the watch, it's told me to go for a walk for a certain number of minutes to complete the exercise and movement rings. Hmmm, I really should listen to what it's telling me…
4K is known as Ultra High Definition (UHD), while 1080P is simply labelled High Definition (HD). As their names imply, 4K UHD has a considerably higher resolution than 1080P HD video. 4K resolution is exactly 3840 x 2160 pixels, whilst 1080P consists of 1920 x 1080 pixels.
High-dynamic-range imaging (HDRI or HDR) is a set of techniques used in imaging and photography to reproduce a greater dynamic range of luminositythan possible using standard digital imaging or photographic techniques. HDR images can represent more accurately the range of intensity levels found in real scenes, from direct sunlight to faint starlight, and is often captured by way of a plurality of differently exposed pictures of the same subject matter.
Apple TV has an A10X chip supports both Dolby Vision and HDR10. Which means, when it's connected to a 4K television, 4K content looks fantastic. (Cheeck out the new 4K screensavers that come with tvOS 11). The A10X makes it the most powerful product of its kind on the market — which is appropriate since it's one of the most pricey.
Conveniently, the Apple TV 4K always outputs to the highest resolution possible allows viewers to get the most out of their TV, whether it's an older HDTV or the latest 4K Dolby Vision OLED. It also offers automatic detection of a 4K TV's capabilities, which optimizes setup for the best quality picture.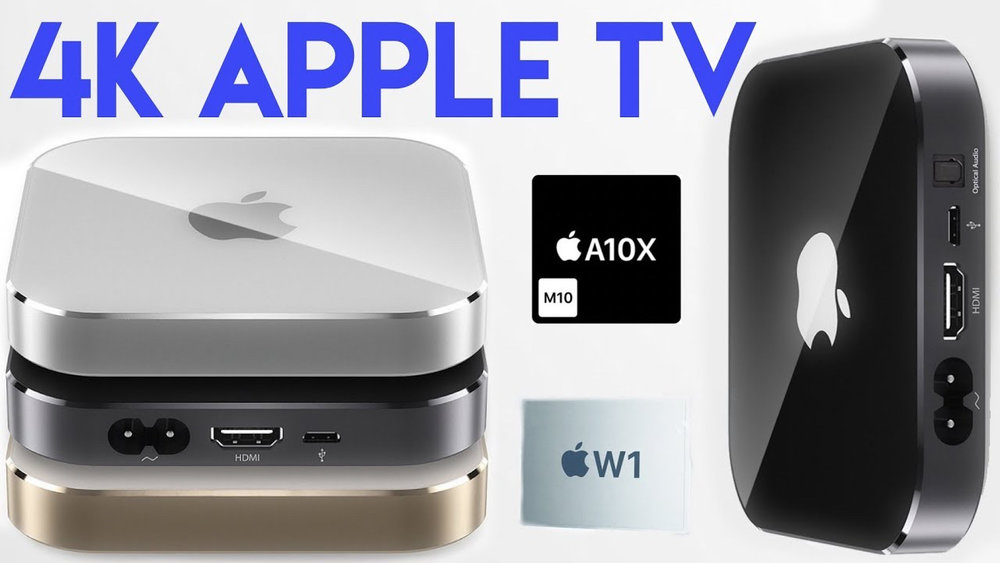 You should note that you won't be able to enjoy 4K content on YouTube. Apple doesn't support the VP9 video format that YouTube uses, so the best you'll get is 1080p. Apple blames YouTube and YouTube blames Apple for the problem, so who knows when it will be resolved.
I do hope — and expect — to see the new Apple TV add support for Dolby Atmos, which it currently lacks. Apple tells The Verge that the lack of Atmos isn't a hardware limitation, and that support is on the roadmap. I expect we'll see it in an upcoming tvOS upgrade.
Dolby Atmos is an audio format for creating and playing back multichannel movie soundtracks. It was developed to give movie sound a more three-dimensional effect. Traditional 5.1- and 7.1-channel surround setups deliver captivating sound using speakers placed all around your room. Dolby Atmos takes this to another level with speakers to create a "height" layer of sound above the listener.
I also must point out that Eddy Cue, Apple's senior vice president of Internet Software and Services, said on Sept. 12 that Apple has been working with major studios to bring 4K HDR movies to iTunes as the same price as the HD titles. And he says that those HD movies you've purchased will automatically be upgraded.
However, there's a gotcha to this. Though the new Apple TV with 4K offers both 4K and HDR support, you'll only be able to steam the high-quality films, not purchase 'em on iTunes. In a support document, Apple says you can buy or rent movies from the iTunes Store in high-definition (HD) or 4K resolution formats. These videos might also feature high dynamic range (HDR) or Dolby Vision.
Apple says you can download a local copy of an HD movie, and you might be able to download HDR and Dolby Vision versions, but you can't download a 4K version. This is likely due to licensing issues with film studios, but still it's disappointing (at least to a film buff like me).
But my biggest gripe about the latest incarnation of the set-top box is the lack of a redesign of the Siri Remote. I like most aspects of the remote, but it's impossible to tell if you're holding it correctly — ie, having the right side pointing to the Apple TV — unless you're looking at the remote.
The raised white ring around the Menu button is an improvement, but a slight one. Why not add texture to denote orientation along the back and sides?
Other things you should know about the Apple TV with 4K: setup is just as simple as with previous models. Plug in the power cable, connect it to your TV over HDMI, and you're good to go. There's also an Ethernet port if you need it (you might for streaming 4K video), but Apple has done away with the USB-C connector.
Also, the new set-top box is the first to have a fan to cool its enhanced innards. The fan is, for all practical purposes, totally silent (you may can hear it running if you press your ear against the device).
The Apple TV 4K starts at $179 for 32GB or $199 for 64GB, joining Apple TV (4th generation) 32GB at $149, available from Apple.com and Apple Stores, as well as through select Apple Authorized Resellers. Spring for the bigger one if you buy lots of games and movies.
It's not quite perfect, but the Apple TV 4K is the streaming box Apple fans have been waiting for.
Apple World Today Rating (out of 5 stars): ★★★★★