If you have one of the new MacBook Pros with Touch Bar and are frustrated that all legacy ports were replaced by unified Thunderbolt 3/USB-C connectors, consider adding the $249.95 IOGEAR USB-C Docking Station with Power Delivery to your Christmas wish list.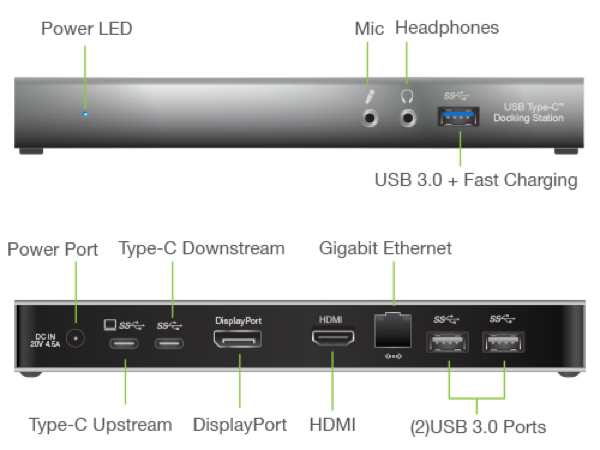 Through a single USB-C connection, it lets you connect monitors, a full-sized keyboard and mouse, external hard drives, printers, webcams, and more. Easy to set up, the all-in-one dock serves up a total of 10 ports.
What sort of ports? USB 3.0, HDMI, audio, microphone/speaker, Ethernet and more. The IOGEAR product works flawlessly and its well designed. A USB 3.0 fast-charging port is located on the front, which means you can charge an iPhone or iPad while working with your laptop.
IOGEAR says you can connect additional displays with HDMI and DisplayPort Multi-Stream Transport in single, mirror, or extend mode. However, though the Docking Station is compatible with macOS 10.10.5 and higher, only one additional video output can be utilized for an extended desktop under the operating system.
That was my sole disappointment with this solution. Otherwise, there is a lot to admire. With the IOGEAR station you can conveniently connect and disconnect from your Mac laptop via a single high speed cable. And, while connected, the IOGEAR USB-C Docking Station will charge your laptop through the USB-C power delivery functionality (an AC power adapter is included).
The IOGEAR dock is made from machined stainless steel, so it's a good aesthetic match with the MacBook Pro or MacBook. Since it's well-balanced and includes anti-slip grips, it doesn't slide all over your desk.
If you only need a specific type of dongle (or two) to make up for missing legacy devices on a new MB Pro or 12-inch MacBook, the IOGEAR docking station will be overkill. However, if you need multiple dongles or connectors, buying the USB-C Docking Station with Power Delivery makes fiscal sense — plus, it's more practical to deal with one laptop accessory than a half dozen or more.