If you need more power than the built-in Mac OS X clipboard offers, but not as many bells and whistles as ClipBuddy, check out CopyLess. It offers plenty of clipping/pasting power for most Mac users.
If you're like me, you get irritated by constantly have to jump between applications to copy and paste things. CopyLess rids you of this nuisance.
Unlike the Mac OS X system clipboard, the utility lets you store and access up to 100 items. It can manage almost all data formats supported by the Mac OS X clipboard.
CopyLess is a no-brainer to use. Just copy text, images, files or other data formats and you can access, preview and paste whenever and wherever you wish.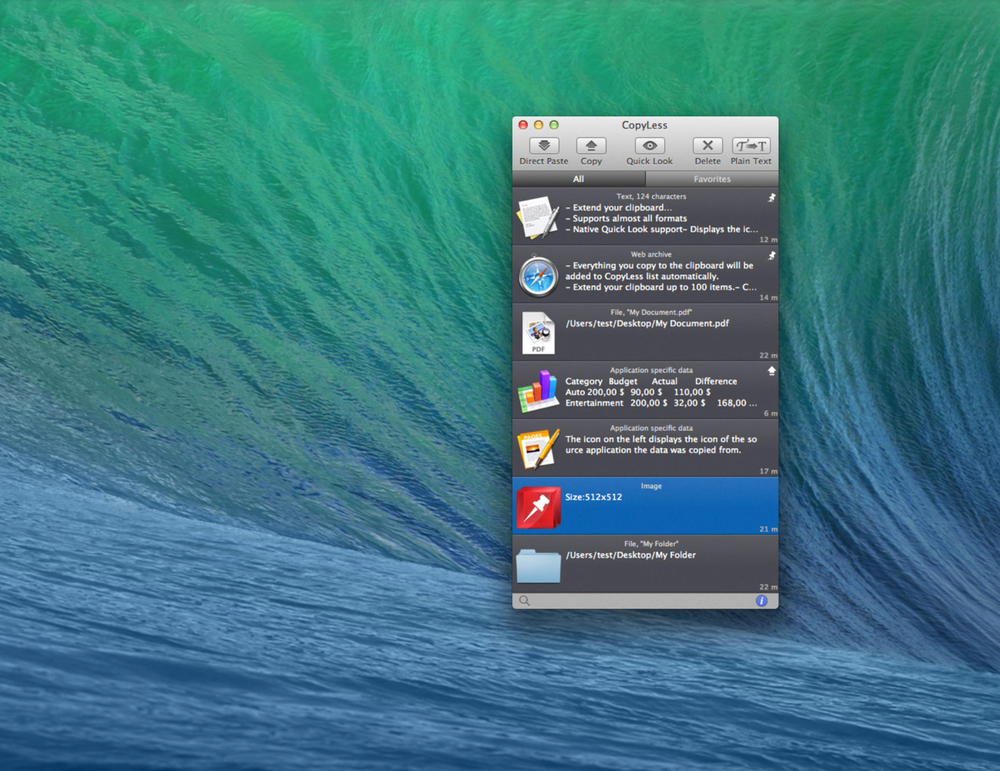 You can instantly paste any items from CopyLess to the active application — or just put the item to the system clipboard to make the item available for the paste operation using the CMD+V keystroke or "Paste" option from the menubar.
CopyLess also has several nice touches that make it a must-have utility for Mac users. You can access the clipboard with a single user defined keystroke. There's an integrated inline search to find fast the right item. You can strip formatting from text to convert it to "plain" text.
There's an icon that offers a "Quick Look" at items in the clipboard. Quick Look is a feature of Mac OS X that lets you quickly view the contents of a file or folder without opening it or starting an application. What's more, CopyLess not only stores the content of your clippings, it also knows where they came from and displays the icon of the source application.
CopyLess is an advanced, flexible clipboard manager. It will save you time and frustration. What more can you expect from a low-priced Mac OS X utility?
CopyLess is available for $6.99 at the Mac App Store. CopyLess requires Mac OS X 10.6.6 or higher.
---
Check out the beautiful Pad & Quill Contega Thin Case for iPad Pro® 9.7