In the long-ago days of 2013, Ben Bajarin, writing for Techpinions, predicted that desktops are going to make a comeback and that it's notebooks that are "the past" as tablets such as the iPad continue to grow in popularity. I think he was onto something, despite a more-common line of thinking that the desktop is the past of personal computing as ever more folks move to laptops.
"I see desktops making a comeback due to a role change," Bajarin said. "There is an interesting trend emerging around desktops. Consumer all-in-one desktops (like the iMac) are being designed to be showcased prominently in the house rather than stuck in the den or office. These computers will be very elegant, very powerful, and very affordable. So rather than try to converge a notebook and a tablet, I think a better create a solution is to pair a desktop all-in-one with a tablet."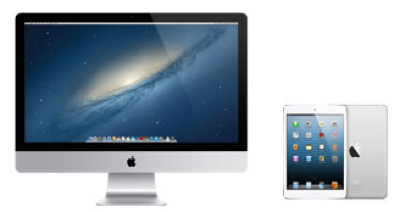 Under this scenario, when you want a big screen, keyboard, lots of processing power, etc., you would use your desktop computer. When you want a mobile computer you use your tablet. "Plus, if you buy my logic that a notebook is just a portable desktop, then the notebook becomes irrelevant in a desktop/tablet solution," Bajarin adds.
I think this is a great idea. In fact, I'd love to be able to have a set-up in which my iMac is my workstation, so to speak, and my iPad Pro is what I use when I'm on the road, sitting in bed, etc.
For this to work for me, there are a few things that need to happen:
iOS needs even better multitasking. If my iPad is to be my primary portable computer, I need to be able to more easily jump between Pages, Mail, Safari and a graphics editing app than I can do now. This should occur as iOS evolves.
There needs to be a better way to add third-party storage to my iPad Pro.
I need a file manager to iOS that allowed me access to external USB drives connected to the device.
Will these things happen to make the iMac/iPad solution work for me? I think within two years, they will. We should get an idea of what's coming for future iterations for iOS, as well as OS X, at the Apple Worldwide Developer Conference this summer.
Don't get me wrong. There'll always be a market for laptops and notebooks, but for those of us who work primarily at home or an office, the desktop/tablet set-up could be perfect.
Or, of course, Apple just make a Mac OS X tablet, like my imagined MacPad.
---
The Woodline Case from Pad&Quill: Kevlar meets wood in a stunning new iPhone case